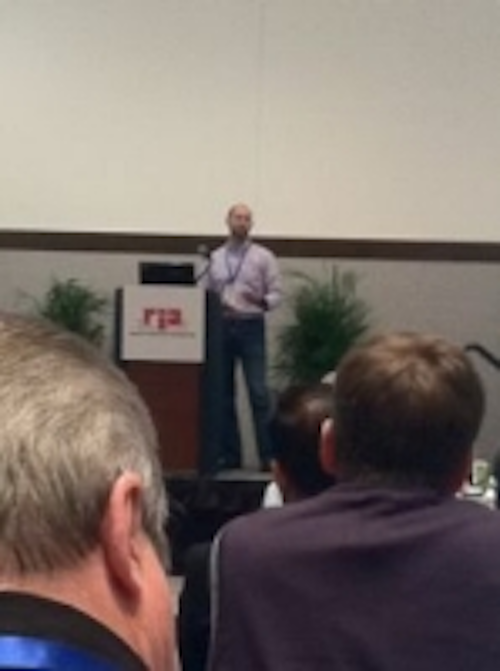 Held concurrently with the AIA Vision Show in Boston was the first ever Collaborative Robots Workshop, which was put together by the Robotics Industries Association in order to provide information about the technology, applications, safety implications, and human worker impact of collaborative robots.
While I wasn't able to attend the full day of informative sessions, I made sure that I was able to catch the last two, both of which looked toward the future of robotic applications. The first of these sessions, "The future of collaborative robots," was presented by Chris Jones, Director, Strategic Technology, iRobot Corporation. During his presentation, Jones outlined a number of challenges that collaborative robots present and explained that if these issues can be overcome, then entire new robotic applications may soon develop across a number of industries.
He stressed the issue of navigation first and foremost, citing that robots need to be capable of operating in unmodified human environments and alongside people. Navigation challenges for collaborative robots include:
Human-robot interaction
Mobile perception
Mapping and localization
3D obstacle detection and avoidance
Dynamic environments
Proxemics and space
In addition, Jones talked about the importance of getting the people who will be working alongside the robots acclimated to the idea, as well as mobility and manipulation issues such as strength to weight ratio, dexterity, and physical compliance.
In addition, robotic system challenges such as value proposition, installation and operation, safety, power efficiency, and connectivity issues will also need to be considered by anyone looking to use collaborative robots, explained Jones. By addressing these challenges, Jones told the packed Hynes Convention Center room that collaborative robot applications such as physician telepresence, home assistance, and tool-handling workshop robots can all be used to provide specific and valuable services.
Page 1 | Page 2