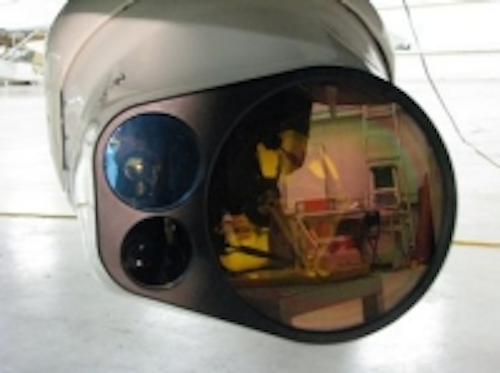 Global aerospace, defense, information and services company Exelis has successfully flight tested a long-wave infrared (LWIR) hyperspectral image sensor capable of pointing in multiple directions to identify threatening substances and gases, including explosive devices.
The integrated sensor and processing system provides real-time data about the composition of gases and solids, which is important when it comes to detecting things like improvised explosive devices (IEDs) or potential leaks from containers or pipelines used in industries such as oil and gas or nuclear power, according to a press release.
The LWIR sensor is cryocooled to temperatures below zero degrees Fahrenheit and is capable of identifying small amounts of gas released into the atmosphere, as well as solid materials on the ground. Dr. Minda Suchan, director of material identification at Excelis, said in the release that the group was able to overcome the cooling requirements to ensure the sensor could collect usable data, and that the system could be used to look into denied areas from high-altitude aircraft.
Housed in a gimbal that can be pointed in multiple directions, the system can collect larger areas of imagery than a hyperspectral imaging sensor that is mounted to an aircraft and only points downward. In addition, the system features on-board processing capabilities, which will enable the fast collection of data via unmanned aircraft.
During the initial flight test, Exelis researchers put various substances and material around the Rochester, NY area to test the sensor's capabilities. After successful collection, the data were recorded and stored for processing alter to ensure the materials could be properly identified, but in a regular flight operation, the material would be processed immediately onboard. Additional test flights are planned for the system.

View the press release.
Also check out:
Bebop surveillance UAV features advanced imaging capabilities
Google continues robotic push with purchase of UAV company
Sensor and machine vision technologies see expanded focus at SPIE DSS 2014S
hare your vision-related news by contacting James Carroll, Senior Web Editor, Vision Systems Design
To receive news like this in your inbox, click here.
Join our LinkedIn group | Like us on Facebook | Follow us on Twitter | Check us out on Google +