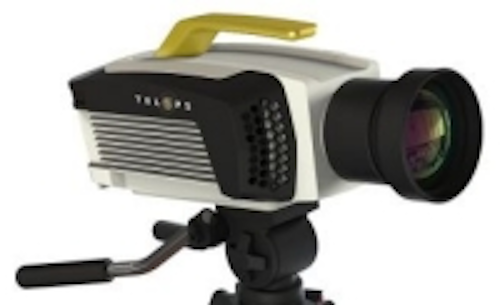 Telops has announced the launch of the TS-IR thermal scientific infrared camera, which is available in six models with InSB or MCT detectors with 15 µm, 16 µm, and 30 µm pixel sizes. The infrared cameras feature a spectral range of 3 µm to 11.8 µm, depending on the model, available in 640 x 512 or 320 x 256 pixels. TS-IR cameras feature IP67 sealed enclosures and rugged design, making it suitable for use in harsh environments. In addition, the cameras feature a motorized filter wheeler, internal memory, advanced triggering, as well as an optional thermography package, which includes real-time image processing, automatic exposure control, enhanced dynamic range imaging, WiFi camera control and data transfer, and 4 Gbytes of additional memory.
To Learn More:

Contact:Telops, Inc.
Headquarters: Quebec, Canada
Product: TS-IR infrared camera
Key Features: InSB or MCT detectors with 15 µm, 16 µm, and 30 µm pixel sizes, 640 x 512 or 320 x 256 pixel models, IP67 sealed enclosure.
What Telops says:
View more information on the TS-IR infrared cameras.

View More Products| Locate a vendor or system integrator | Receive e-mail updates
Share new products that you think are particularly interesting or helpful by contacting James Carroll, Senior Web Editor, Vision Systems Design.
Join our LinkedIn group | Like us on Facebook | Follow us on Twitter | Connect on Google +