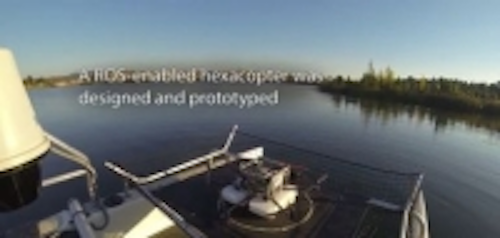 The ASV also features an LD-LRS2100 long range laser scanner from SICK. These outdoor scanners feature infrared (905 nm) light sources with a 360° field of view and a scanning frequency of 5 Hz to 10 Hz. The scanner has an operating range of 2.5m to 250m and an IP67 enclosure. In addition, the ASV is equipped with fixed underwater sonar (DeltaT 837B from Imagenex) and GPS-RTK (Proflex 800 from Ashtec).
Field tests for the RIVERWATCH system were carried out in a private lake in the Sesimbra region in Portugal. This application was the first in which an aquatic-aerial robotic team was deployed for environmental monitoring, according to a research paper on the project. While the initial work described in this research paper focused on the hardware and technology of the project, future work will be centered on making RIVERWATCH a completely autonomous system, with additional development needed to address the energy harvesting of the ASV, the charge of the UAV, tests and evaluations of the UAV landing algorithms, and full characterization of the dual propulsion system.
View more information on the RIVERWATCH Project.
View the research paper.
Also check out:
Algorithms provide more accurate citrus crop yield estimate
Vision-guided underwater robot discovers sea anemones living in ice
Artificial Intelligence: Researchers add artificial intelligence to robotic systems
Share your vision-related news by contacting James Carroll, Senior Web Editor, Vision Systems Design
To receive news like this in your inbox, click here.
Join our LinkedIn group | Like us on Facebook | Follow us on Twitter | Check us out on Google +
Page 1 | Page 2