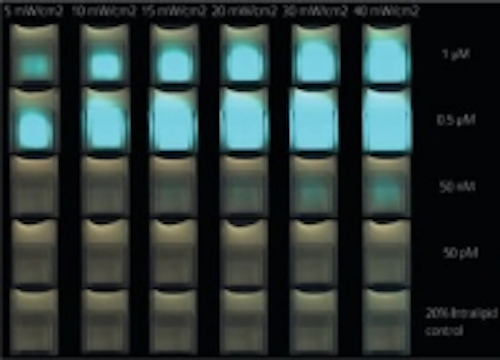 "Gliomas have tentacles that invade normal tissue and present big challenges for neurosurgeons: Taking out too much normal brain tissue can have catastrophic consequences, but stopping short of total removal gives remaining cancer cells a head start on growing back. That's why we have worked to develop imaging systems that will provide a clear distinction – during surgery – between diseased tissue and normal brain," he said.
The imaging agent used, which is based on the protein found in the Israeli deathstalker scorpion, is called Tumor Paint BLZ-100, a product of Blaze Bioscience Inc. The agent, called chlorotoxin, was bonded to an NIR dye, indocyanine green (ICG), a version of which is already approved by the FDA. Together, the imaging contrast agent attaches to brain tumors and when stimulated by the laser, emits a glow invisible to the eye, but picked up by the vision system.
In studies performed on laboratory mice with implanted human brain tumors, the device clearly delineated tumor tissue from normal brain tissue, and with the NIR light's ability to penetrate deep into the tissue, the system identified tumors that had migrated away from the main tumor and would have evaded detection. The authors of the paper hope that the system represents a "new direction in which fluorescence-guided surgery may well be headed," and that it will be used to delineate brain tumors in real time and assists surgeons in near-complete tumor removal to increase survival and reduce neurological deficits.
View the research paper.
View the press release.
Also check out:
Wearable glasses enable surgeons to visualize cancerous cells
Scientists capture first 3D movie of living sperm
Chemical imaging technique could improve diseased tissue analysis

Share your vision-related news by contactingJames Carroll,Senior Web Editor, Vision Systems Design
To receive news like this in your inbox, click here.
Join our LinkedIn group | Like us on Facebook | Follow us on Twitter | Check us out on Google +
Page 1 | Page 2