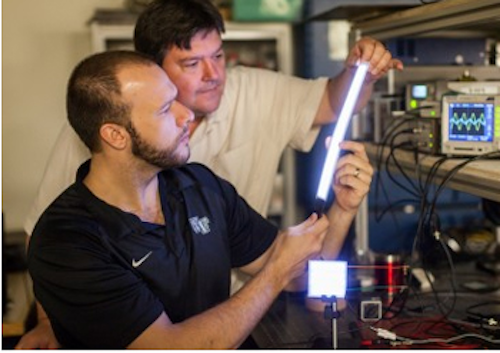 Scientists led by Professor David Carroll, the director of the Center for Nanotechnology and Molecular Materials at Wake Forest University (Winston-Salem, NC, USA), have developed a new form of lighting based on field-induced polymer electroluminescent (FIPEL) technology.

The lighting gives off soft, white light rather than the yellowish glint from compact fluorescent (CFL) bulbs or the bluish tinge from LEDs. It is claimed to be at least twice as efficient as compact fluorescent (CFL) bulbs and on par with LEDs.

The lighting is made of three layers of a moldable polymer blended with a small amount of multi-walled carbon nanotubes that glow when stimulated to create white light similar to sunlight. It can be made in any color and any shape -- from 2×4-foot sheets that could replace office lighting, to a bulb with Edison sockets to fit household lamps and light fixtures.

The FIPEL technology is currently under an exclusive world-wide license by CeeLite Technologies (Colmar, PA, USA) who sponsored the research at Wake Forest University.

CeeLite and Wake Forest are working together to manufacture devices based on the technology and plan to have them ready for consumers next year.
A research paper describing the technology appears online in the peer-reviewed journal Organic Electronics here.

Articles related to lighting from Vision Systems Design that you might also be interested in reading.
1. Lighting design enables vision systems

Choosing the correct type of lighting is of prime importance when developing machine-vision applications.

2. Smart lighting choices increase image contrast

Correct lighting is essential for the success of stable and reliable machine-vision systems since even the best image-processing or machine-vision software cannot compensate for image details that are lost when capturing the image.

-- Dave Wilson, Senior Editor, Vision Systems Design