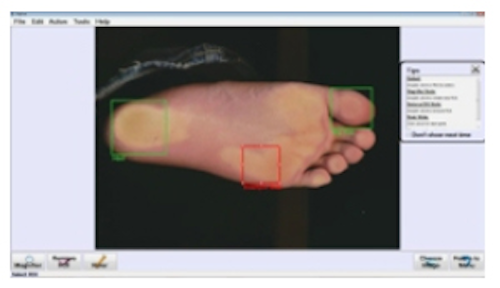 A team from the UCLA Henry Samueli School of Engineering and Applied Science (Los Angeles, CA, USA) has created software to allow individuals with chronic foot ailments like diabetes to track and monitor their skin conditions.

Called BigFoot, the software package can be downloaded and used by the public on a regular basis at home and by medical professionals in clinical settings.

The only hardware required to work with the software is a home computer and a simple flatbed scanner that captures images of a patient's feet. The software's custom-designed set of algorithms then manages and analyzes the acquired foot-image data.

"Once installed, the BigFoot software takes individuals through a simple step-by-step process to create detailed digital images of their feet and compare them against earlier images. If desired, selected regions of interest and their comparisons over time can be emailed to a doctor's office for professional comments. We feel this can be a great monitoring tool for patients suffering from diabetes and their doctors," says Aydogan Ozcan, a UCLA associate professor of electrical engineering and bioengineering who led the team that developed the software.

Various medical conditions, including diabetes, can manifest themselves as visible features on the human skin. Effective monitoring of these superficial features can be of utmost importance as an indirect, and sometimes direct, method of tracking the progression of the underlying medical condition.

Diabetes, especially in elderly individuals, can lead to significant visible damage on the surface of the skin, particularly the feet, and may potentially lead to ulcers. Yet patients are not always aware of the extent, or even the existence, of the damage. Many times, they find out about it only through visual inspections during a visit to a doctor's office or point-of-care clinic.

However, since such medical visits may not occur with sufficient frequency, significant damage can go undetected and untreated for long periods. Severe cases can necessitate the amputation of the foot.

To download and use the BigFoot software free of charge, click here. A video of the software in action is available on YouTube here.

Related articles from Vision Systems Design that you might also be interested in.
1. Images of the eye linked to heart disease

A pioneering study led by the University of Edinburgh's Clinical Research Imaging Centre (CRIC; Edinburgh, UK) aims to determine whether a scan of blood vessels in the eye can identify signs of heart disease.

2. Smart phone application manages diabetes

An interdisciplinary research team at Worcester Polytechnic Institute (WPI; Worcester, MA) has received a $1.2 million award from the National Science Foundation to develop a smart phone application ("app") that will help people with advanced diabetes and foot ulcers better manage their disease.

3. Diagnostic imaging tool detects peripheral arterial disease

A new optical imaging tool created by Columbia University (New York, NY, USA) researchers may soon make it easier to diagnose and monitor peripheral arterial disease (PAD), one of the most serious complications of diabetes.

Vision Systems Design magazine and e-newsletter subscriptions are free to qualified professionals. To subscribe, please complete the form here.

-- Dave Wilson, Senior Editor, Vision Systems Design