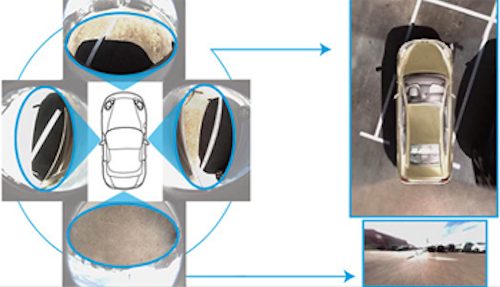 Engineers at Xylon (Zagreb, Croatia) have developed an IP core to process multiple still images or video streams in real time to remove fish eye distortions caused by extreme wide-angle field of view lenses.

The company believes that one application where the new so-called logiVIEW IP might find a home is in surround view driver assistance systems that use at least four cameras equipped with extreme wide-angle fish eye lenses, which cover separated zones around the vehicle.

Here, the logiVIEW IP could be put to use to remove the lens distortions from the cameras and stitch the corrected video images together to produce a single image of vehicle's surroundings.

The company says that the logiVIEW IP core itself can be implemented in on a Xilinx Zynq-7000 SoC and FPGAs where it can be interfaced to an Arm Coretex, Xilinx MicroBlaze or PowerPC CPU.

Complete details of the IP, including more examples of where it might be used, can be found on the Xylon web site here.

Related items on IP from Vision Systems Design

1. IP cores now available for Camera Link HS

The Automated Imaging Association (AIA; Ann Arbor, MI, USA) has announced that the Camera Link High Speed (HS) technical committee has released Intellectual Property (IP) cores for the M and X protocols of the standard. The M protocol supports 3.125 Gbps links, while the X protocol supports 10 Gbps links.

2. Processors help designers develop smart cameras for cars

Freescale Semiconductor (Austin, TX, USA) is licensing intellectual property (IP) from CogniVue (Quebec, Canada) to build a new range of microprocessors aimed at helping designers build smart cameras for advanced driver assistance systems (ADAS).

3. UK image processing IP licensed to TI

Apical Limited (London, UK) has signed a licensing agreement with Texas Instruments (TI; Dallas, TX, USA) which will alllow TI to integrate Apical's iridix image processing IP cores into its products targeting digital imaging and display applications.

Vision Systems Design magazine and e-newsletter subscriptions are free to qualified professionals. To subscribe, please complete the form here.

-- Dave Wilson, Senior Editor, Vision Systems Design