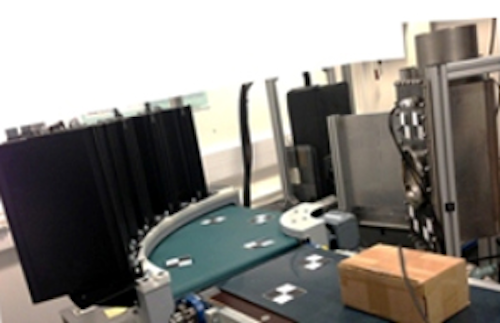 Engineers at 3DX-RAY (Barrow-upon-Soar, UK) have collaborated with researchers at University College London (UCL; London, UK) to deliver a proof of principle system that could be used as the first line of defense in checked baggage screening.
Checked baggage inspection is a multi-layered process designed to weed out false-alarms from genuine threats through a series of timely and complex inspections. The first line of defense is 2-D x-rays that are not always ideal because they throw up high false alarm rates. While CT scanning x-ray techniques are more accurate, they are also costly and slow.
The research team realized they could achieve the same effect as CT scanning x-ray techniques by collecting images from multiple angles using 2-D x-ray sources and detectors with an overhead camera and using intelligent algorithms to collate these x-ray 'slices' to produce 3-D images. The images will not only allow operators to be able to see the shape of the objects but also to determine types of material too.
The team at University College London -- headed up by Professor Robert Speller -- turned to 3DX-RAY after successfully completing an initial feasibility study. 3DX-RAY then provided the hardware and systems expertise to integrate UCL's tomographic imaging software to produce a proof of principle system.
"This is an exciting project and will be a huge leap for the future of baggage scanning because it provides a viable low cost alternative to CT-scanning that could be rolled out across airports very easily. Although this technology is still some way from full commercialization it is a fantastic project to be involved with. We hope if successful the team can take this into the marketplace," says 3DX-RAYS's Nick Fox.

Related articles on CT scanning from Vision Systems Design that you might also be interested in.
1. CT scan technique differentiates types of lung damage
A team from the University of Michigan Medical School (Ann Arbor, MI, USA) has used a technique called parametric response mapping (PRM) to analyze CT scans of the lungs of patients with chronic obstructive pulmonary disease (COPD).
2. Kinect could help medics estimate radiation dose from CT scanner

Researchers at the Hospital of the University of Pennsylvania are investigating whether a system based around the Microsoft Kinect could be used to help predict the precise dose of ionizing radiation that patients require during a CT scan by providing an accurate estimate of whole-body volume.

3. CT scans and 3-D printing brings fossils to life

Researchers at Bristol University (Bristol, UK) have used CT (Computed Tomography) scanning and 3-D printing to enable members of the public to view and hold 3-D replicas of ancient fossils.

-- Dave Wilson, Senior Editor, Vision Systems Design