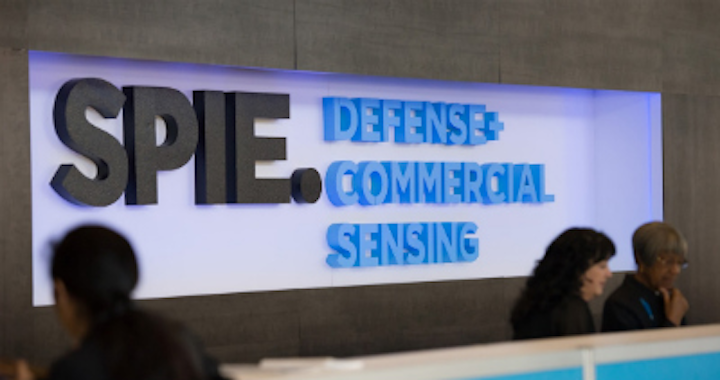 The 2019 SPIE Defense + Commercial Sensing conference, held in Baltimore, Maryland from April 14 through April 18 at the Baltimore Convention Center, is expected to draw over 4,500 attendees to its conferences, training and education courses, and expo, in a wide-ranging discussion of infrared technology, spectral imaging, and LiDAR, among other topics.
SPIE DCS 2019 expo
The SPIE DCS 2019 expo, designed for researchers, engineers, product developers, and purchasers, will feature over 300 companies presenting technologies such as:
· Infrared sources, detectors, and systems
· Chemical and biological sensing
· Imaging and fiber optic components, equipment, and systems
· LIDAR
· Robotics
· Law enforcement technology
· Photonic sensors, spectroscopy, multi-spectral, hyperspectral
Scheduled sessions on the expo floor include topics such as:
· LiDAR for autonomous vehicles
· Non-automotive LiDAR for 3D sensing
· CMOS-based imaging
· Cybersecurity
· Sensors for agricultural applications
· Sensing for security and defense applications
Speakers and conferences
The 45 conferences at SPIE DCS 2019 are arranged into four tracks:
· Materials and Devices
· Imaging and Analytics
· Advanced Sensing and Imaging
· Next Generation Sensor Systems and Applications
Three plenary speakers are scheduled for the event:
· Timothy Grayson, Director, Strategic Technology Office, DARPA
· Philip Perconti, Director, US Army Research Laboratory
· Albert Rizzo, Director, Medical Virtual Reality, Institute for Creative Technologies; Research Professor, Department of Psychiatry and School of Gerontology, University of Southern California
Other events
A selection of other events and activities being offered at SPIE DCS 2019:
The All-Symposium Welcome Reception will be held at Power Plant Live on Monday, April 15 from 7 p.m. to 8:30 p.m.
A job fair will be held on Tuesday, April 16 from 10 a.m. to 6 p.m., and on Wednesday, April 17 from 10 a.m. to 5 p.m.
An AR/VR technology demonstration will be held in the exhibition hall on Tuesday, April 16 from 10 a.m. to 6 p.m.
Special panel discussions and sessions include:
· "Machine Learning for Automatic Target Recognition" panel discussion on Monday, April 15 from 9 a.m. to 10:30 a.m.
· "Machine Learning in/with Information Fusion and Understanding" panel discussion on Monday, April 15 from 1:20 p.m. to 4:45 p.m.
· Special industry session on Quantum Technology, held Monday, April 15 from 9:45 a.m. to 12:00 p.m.
Download a PDF of the SPIE DCS 2019 conference schedule on the event homepage.
Share your vision-related news by contacting Dennis Scimeca,Associate Editor, Vision Systems Design

To receive news like this in your inbox, click here.