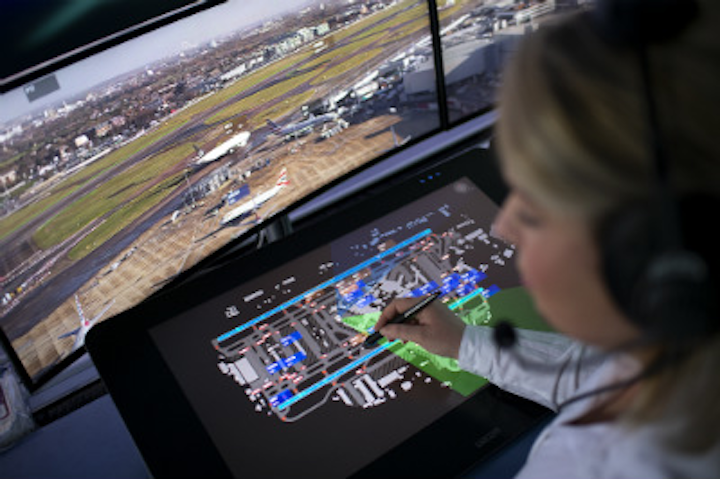 NATS, a company that provides air traffic control services in the UK, is conducting a trial at Heathrow Airport of new AI software designed to assist with reduced visibility conditions that result in delays for passengers.
The control tower at Heathrow is 87 meters tall, providing air traffic controllers an excellent view of the airport and surrounding area. The control tower is tall enough to be engulfed by low cloud conditions, however. In these conditions, air traffic controllers lose the ability to visually confirm when an aircraft has left the runway and must rely entirely on radar, which in turn necessitates giving each landing extra time to make sure the planes have cleared the runway. This reliance on radar alone results in a 20% loss of landing capacity, which results in delays for passengers.
The trial for the AI-based tracking system meant to address this issue is taking place in the Digital Tower Laboratory, a NATS facility at Heathrow that represents a £2.5 million investment by the company. The laboratory is focused on research into how technology can support air traffic operation.
The system being tested consists of 20 ultra HD cameras and an AI platform developed by Searidge Technologies in Canada called Aimee. Data from the cameras, placed at ground level such that they cannot be obscured by low cloud conditions, is fed into the Aimee platform. The AI interprets the images to identify aircraft, tracks the aircraft via the camera network, and alerts a flight controller that the aircraft has left the runway. The flight controller can then confirm the information from the AI and clear the next arriving flight.
The current trial is non-operational and will determine whether the system will be deployed in 2019. The Aimee platform will track over 50,000 aircraft during the trial, the AI's accuracy will be measured, and the results will be presented to the Civil Aviation Authority. NATS believes the system will allow Heathrow to reclaim all lost capacity due to low cloud conditions, and that this technology may someday control Heathrow's third runway.
(Image courtesy of NATS.)
Share your vision-related news by contacting Dennis Scimeca,Associate Editor, Vision Systems Design

To receive news like this in your inbox, click here.
Join our LinkedIn group | Like us on Facebook | Follow us on Twitter