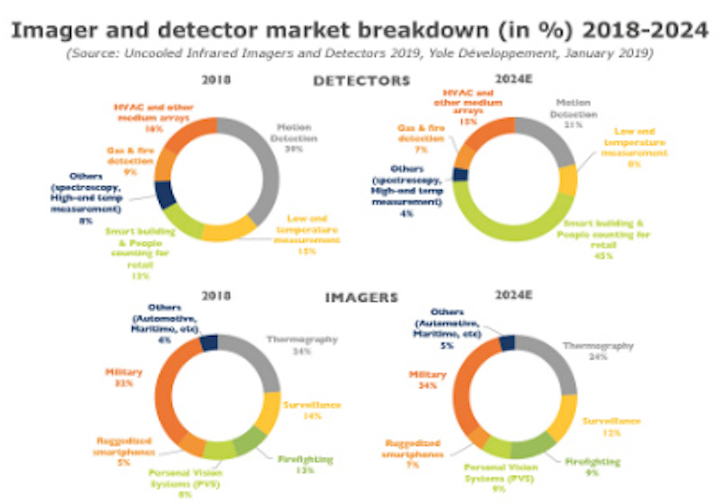 Market research firm Yole Développement has released a new report titled "Uncooled Infrared Imagers and Detectors 2019." The firm predicts that the uncooled infrared imager and detector markets have promising futures, with a predicted annual growth of 7% in value over the 2018-2024 period. In 2017, states the report, 1.3 million imagers and 300 million detectors were sold.
According to Yole Développement, the uncooled IR imager business is still driven by commercial markets. Firefighting accounted for 20% of shipment volume between 2018 and 2024. PVS for binoculars and rifle sights is another opportunity for growth. This market is expected to reach 30% annual unit growth between 2018 and 2024. Smart buildings are another potential market for growth.
Shipments exceeded a million units in 2017, with FLIR, ULIS, and SEEK Thermal proving to be the three top players with market shares of 66%, 13%, and 12% respectively. FLIR's success, according to Yole Développement, is tied largely to the success of the company's Lepton core.
Yole Développement also cites the importance of big companies entering the market for uncooled infrared imagers and detectors. LG Innotek, Apple's supplier, is promoting its thermal imaging infrared camera modules. Amazon needs hundreds of cameras equipped with infrared sensors for its cashierless stories, and has said it wants to open 3,000 such stores by 2021. Caterpillar shipped more than 500,000 units of its CATS60 smartphone over a two-year period, and launched the CATS61 model.
To read the full report, click here.
Share your vision-related news by contacting Dennis Scimeca,Associate Editor, Vision Systems Design

To receive news like this in your inbox, click here.
Join our LinkedIn group | Like us on Facebook | Follow us on Twitter