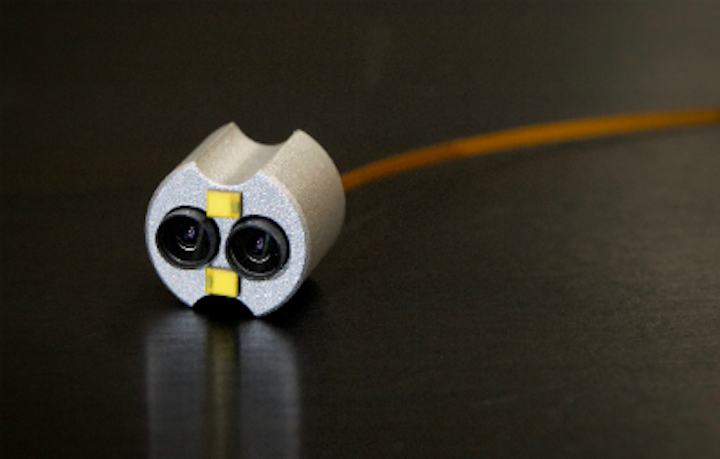 Medical contract manufacturer and product development company Lighthouse Imaging, and OmniVision, have announced the creation of a platform that allows stereoscopic 3Dimaging to be integrated into endoscopes, with the ability for medical designers to customize the platform for their specific needs.
"Traditional endoscopy uses a single camera and does not provide depth information, thus increasing risks during endoscopic surgery," said Tehzeeb Gunja, principal marketing manager at OmniVision, in a press release. "This partnership with Lighthouse Imaging provides an end-to-end, turnkey solution for stereoscopic 3D imaging in applications such as laparoscopy, gastro-intestinal (GI) and general endoscopic surgery."
The 3D endoscopy platform is built around two OmniVision OH02A 2 MPixel, 1080p resolution image sensors with 1.4 µm pixels and a 1/6-inch optical format and 60 fps video streaming. The OH02A sensors support alternate-row HDR and are stereo-ready with sensor synchronization. The platform can be easily adapted, according to OmniVision, to use sensors with 720p or 4K/2K resolution.
Lighthouse Imaging provided the LED illumination and camera control unit for the new platform. The LEDs at the endoscope's distal tip, which has low power consumption and low heat, are driven by the sensors via on-chip pulse width modulation. Ghosting is removed by antireflective coating on the cover glass, and the sensors come in compact chip-scale packages with two-lane MIPI output.
Stereo 3D vision is provided by the OVMed ISP back-end processor that has a response time of <100 ms, fits inside a combination camera control unit/video processor unit, and supports an integrated design with analog-to-digital converter, dual-channel ISP, and a PC interface. An input interface is included for dual OH02A image sensors and output is carried by a dual-USB 2.0 interface.
The OH02A sensor passes autoclave testing and is RoHS and Reach compliant and. The Lighthouse units are compliant with IEC and FDA regulations and ISO-13485 certified.
Share your vision-related news by contacting Dennis Scimeca,Associate Editor, Vision Systems Design

To receive news like this in your inbox, click here.
Join our LinkedIn group | Like us on Facebook | Follow us on Twitter