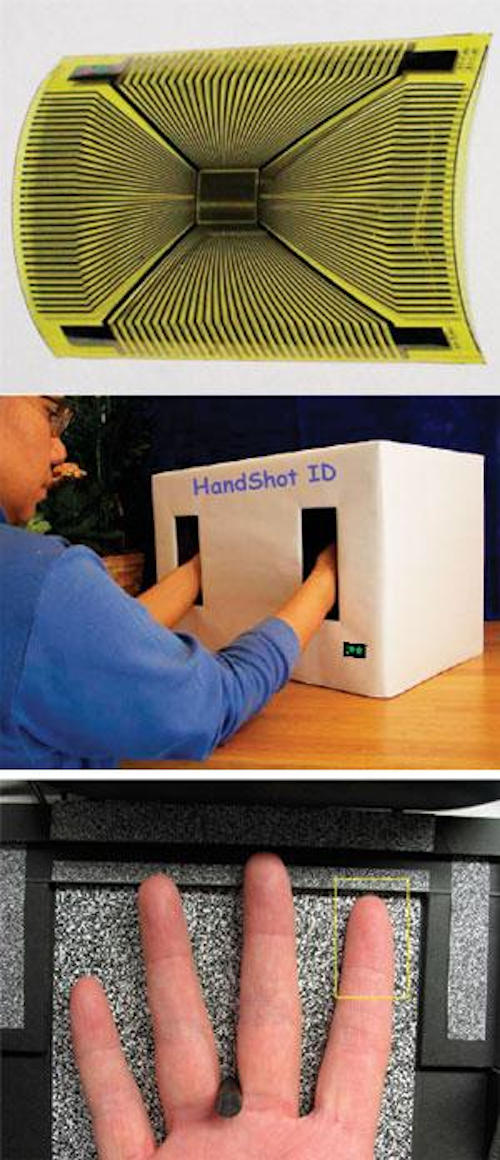 Conventional fingerprint systems process inked fingerprint cards that have been manually scanned or fingerprints that are electronically digitized with flatbed scanners. To date, hundreds of millions of such prints have been collected and enrolled into systems such as the US Federal Bureau of Investigation (FBI) Integrated Automated Fingerprint Identification System and the US Department of Homeland Security (Washington, DC, USA; www.dhs.gov) Automated Biometric Identification System.
To digitize all ten prints from the digits of the hands, today's capture technology requires approximately three minutes. In 2004, the Department of Homeland Security instructed the FBI to expand its fingerprint database, mandating the use of faster scanning times. That same year, the National Institute of Justice (NIJ; Washington, DC, USA; www.ojp.usdoj.gov/nij) solicited applications for a fast fingerprint-capture program to develop more efficient methods for collecting fingerprints.
"The NIJ has two basic requirements for fast fingerprint-capture systems," says Laurence Hassebrook, associate professor of electrical and computer engineering at the University of Kentucky (Lexington, KY, USA; www.uky.edu). "First, the system must scan all the digits of one hand in less than 10 s, and second, it must generate an image of a rolled-equivalent scan—finger nail to finger nail—at 500 pixels/in. or better without the help of a human operator."
Four independent projects for live-scan replacement are included under the NIJ Fast Fingerprint Capture Program using sensor technologies that are considerably different from either ink or flatbed-scanner based systems. At Cross Match Technologies (West Palm Beach, FL, USA; www.crossmatch.com), the company is developing a U-shaped flexible polymer-foil-based substrate with a sensor that conforms to the shape of each finger. Using a different approach, TBS North America (Herndon, VA, USA; www.tbsinc.com) is developing a circular optical mirror system that the fingers are drawn across, creating an image. At the International Association for Identification Exhibition and Conference (July 24–28; San Diego, CA, USA) the company announced a single-finger version of the product, known as the Touchless Ten Printer, capable of digitizing 10 rolled equivalents in less than 20 s. A prototype device capable of multiple finger digitization is expected soon.
Finally, both Carnegie Mellon University (CMU; Pittsburgh, PA, USA; www.cmu.edu) and the University of Kentucky are developing camera-based systems that capture the 3-D shape of the hand and the friction ridges of the fingers and palms. CMU's system, the Hand Shot ID system, constructs a 3-D model of both hands by stitching images from multiple cameras.
To simultaneously obtain 1000-pixel/in. images of all 10 rolled-equivalent finger and both palm ridge patterns and minutiae within less than 5 s, the HandShot ID System uses multiple cameras and spotlights to eliminate the need for glass platen imaging. "For HandShot to accurately and instantly capture and record friction ridge skin detail on 10 rolled-equivalent fingerprints and both palm prints within 5 s," says Latanya Sweeney of CMU's Data Privacy Lab, "the system constructs a 3-D model of both hands, including palms, fingerprints, fingertips, and sides of the fingers. Image-processing algorithms then stitch images from multiple cameras together to form a complete 3-D model of both hands, extract ridge detail, and translate the 3-D images to standard formats."
Rather than use spotlights to illuminate the hand, Hassebrook and his colleagues at the University of Kentucky rely on structured light. By projecting and capturing a series of striped patterns over an object, its shape can then be deduced by analyzing the way the stripes warp over the object's surface when viewed at an angle by a camera. In Hassebrook's system, the hand is scanned, a 3-D image generated in real-time and then converted to simulate a 2-D rolled fingerprint.
Developed in conjunction with FlashScan 3-D (Austin, TX, USA; www.flashscan3D.com), the initial prototype scanned a single finger. The subject places a finger over an opening in the systems enclosure. A digital light projector projects a series of striped patters onto the finger's ridges. An array of three Camera Link cameras from Basler (Ahrensburg, Germany; www.baslerweb.com) then acquires a series of images that wrap around the finger. These images are transferred to a host PC using two Solios XCL video-capture cards from Matrox Imaging (Dorval, QC, Canada; www.matrox.com/imaging).
A second prototype uses a single 4M-pixel Camera Link camera with a single Matrox Helios capture card to acquire a scan region large enough to capture a human subject's palm. The system can also acquire the prints of all four fingers simultaneously but does not achieve wraparound scanning of any finger. To achieve instantaneous acquisition, future prototypes will feature a single, continuously projected custom designed composite pattern instead of the projected striped patters and higher-resolution cameras for simultaneous acquisition of the entire hand with wraparound finger scanning. After the system is completed, it will be tested by the Kentucky State Police and then delivered to the NIJ for further evaluation.