3D microscope enables viewing of 3D objects in virtual meeting room
To allow team members working in different locations to view a 3D object simultaneously in virtual meeting rooms, Octonus developed the 3DDM, a flexible 3D digital microscope.
Jun 20th, 2017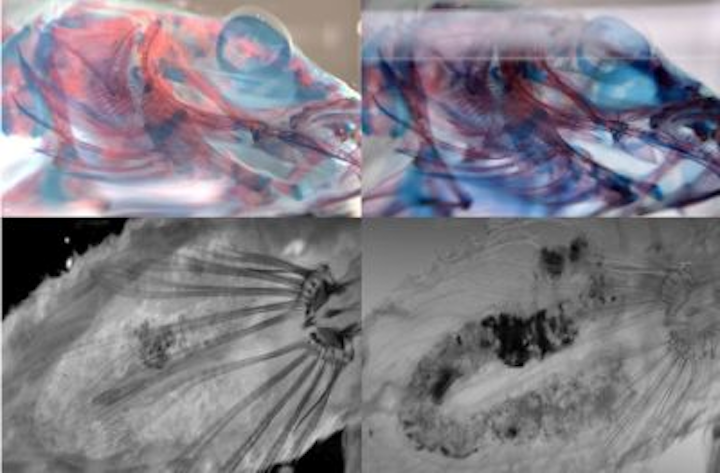 To allow team members working in different locations to view a3Dobject simultaneously in virtual meeting rooms, Octonus developed the 3DDM, a flexible 3D digital microscope.
Octonus' 3DDM is based on a Leica Microsystems M205a stereomicroscope, which is a standard Leica platform fitted with a few additions: an object holder mounted on a motorized stage, a custom LED illumination system, and a pair ofindustrial cameras from FLIR (formerly Point Grey.) To create an image, an operator mounts a sample on the 3DDM's object holder, where the operator can rotate the sample under the cameras' field of view using a standard device such as a mouse, keyboard, or 3D joystick. Adjustments to a focusing drive fitted to the cameras and optical aperture of the system enable the capture of 3D video images, according to FLIR.
As the illuminated sample rotates, the cameras capture a live video stream. The cameras used in the microscope are Grasshopper GS3- U3-23S6C-C color cameras. This color camera features the 2.3 MPixel Sony IMX174 global shutter CMOS image sensor, which has a 5.86 µm pixel size and can reach speeds of up to 163 fps. Additionally, the camera features a USB3 Vision interface and a C-Mount lens mount.

A PC connected to the cameras stores the data captured in compact video format, as either a 3D video stream or 2D/3D image, while also storing the complete set of data for every frame—including all the digital settings of the optical aperture, the lighting system and holder—on top of the images or video sequences. Image analysis software running on the PC then measures object features with accuracy up to 10 µm. A combined 2D/3D mode also allows measurements to be made in both 3D space and along a projection plane through the object. LED lighting soruces include NIR, UV, and darkfield illumination.
"By controlling the movement of the motorized object holder with a 3D joystick, it is possible to position any object with an accuracy of up to one micrometer. In addition, the details of the location of the object, movement trajectories, and the focusing and zooming parameters selected can all be saved on the PC for review later," said Dr. Andrey Lebedev, Octonus Project Leader.
He continued, "The ability of the Grasshopper3 cameras to output pixel data in a RAW16, mode 7 format at frame rates of 60 frames/sec coupled with their 1920 x 1200 resolution were important factors that led us to choose the cameras. The ability to automatically synchronize the capture of images from the two cameras using external hardware triggering from the PC was also a significant criterion that facilitated the development of the system."
Octonus' 3DDM facilitates global team collaboration by using 3D TVs and stereo glasses to create a virtual meeting room, in which presenters can add annotated images or direct their colleague's attention to important details by using the mouse cursor, shifting the image, zooming in and out, changing the fps, or adding and removing layers.
3DDM features a C++ software development kit, which enables control of the system's lighting, optical unit, and holder, while allowing for extensions or additions to existing image processing algorithms. Soon, Octonus plans to increase the resolution of the 3D video images the microscope captures by upgrading its cameras from 2.3 MPixels to cameras in the range of 5 to 12 MPixels.
View more information onthe 3DDM.
View theFLIR case study.
Share your vision-related news by contactingJames Carroll, Senior Web Editor, Vision Systems Design

To receive news like this in your inbox, click here.
Join ourLinkedIn group | Like us on Facebook | Follow us on Twitter
Learn more: search the Vision Systems Design Buyer's Guide for companies, new products, press releases, and videos