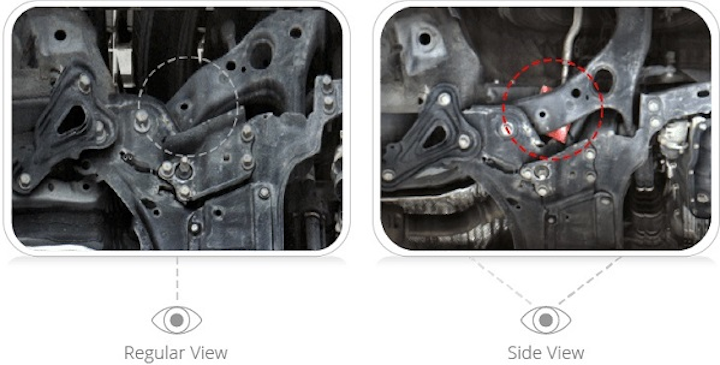 UVeye—an Israeli startup that is using high-resolutioncameras, machine learning technology, and image processing algorithms for the automatic identification of concealed threats in the undercarriage of vehicles—has received $4.5 million in seed funding in a round led by Ahaka Capital, with participation from angel network SeedIL.
The Under-Vehicle Inspection System uses multiple 3800 x 1500 "strategically-angled and synchronized" cameras to generate a 3D image of the vehicle's undercarriage in less than three seconds, according to the company. The system then uses patent-pending, proprietary image processing algorithms to scan the images to identify concealed weapons and other contraband. With a combination of vehicle manufacturer-supplied data and machine learning techniques, the system can also compare and track characteristics of different vehicle models for differentiators, such as weight and part placement. An optional built-in license plate recognition camera can also identify a license plate number and store all its information in a secure database for later inquiry.
Additionally, UVeye also told TechCrunchthat the system can recognize an object the size of a USB stick at speeds of up to 28 MPH, and that it uses audio to "listen" for anything unusual.
"UVeye is changing the way people approach security when traveling by vehicle with a fast, accurate and automatic machine learning inspection system that can detect threatening objects or unlawful substances, for example, bombs, unexposed weapons and drugs," Amir Hever, CEO and co-founder of UVeye, told TechCrunch."With its uninterrupted traffic flow, UVeye introduces an approach to top security that traditional vehicle inspection methods are missing. We are the first to introduce a machine learning vehicle inspection system that detects anomalies in any vehicle while in motion within three seconds using advanced image processing and audio recordings."
UVeye systems have been installed in security markets in Israel, Russia, Kenya, Congo, China, and additional countries, and customers include government offices, embassies, port facilities (sea/air), and critical infrastructures e.g. power plants, gas factories, hotels, and private establishments. Further, the system is finding use in automotive markets as well—including car rental companies, fleets, car dealerships, vehicle repair shops, and OEMs all rely on seamless vehicle operation—as the system can be used to detect vehicle leaks, wear and tear, and any damages that would previously go unnoticed, according to TechCrunch.
View more information on UVeye.
View the TechCrunch article.
Share your vision-related news by contacting James Carroll, Senior Web Editor, Vision Systems Design

To receive news like this in your inbox, click here.
Join our LinkedIn group | Like us on Facebook | Follow us on Twitter
Learn more: search the Vision Systems Design Buyer's Guide for companies, new products, press releases, and videos