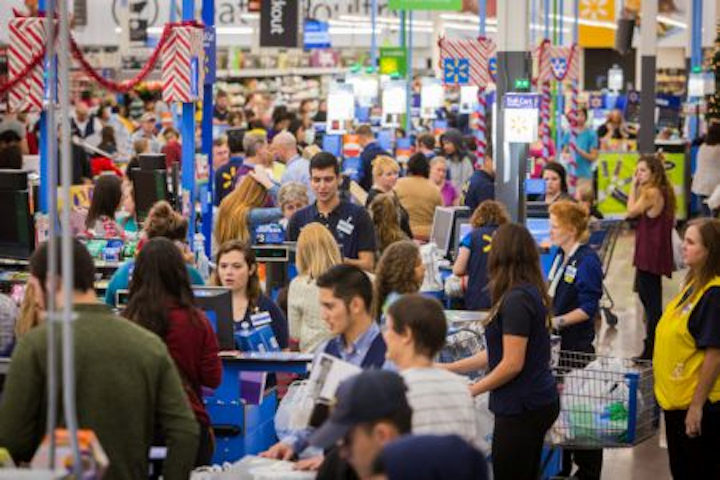 Walmarthas announced that it is opening an emerging technologies office in Dallas that will conduct research in machine learning, computer vision, and the Internet of Things.
Thirteen employees have already been hired at the office, with approximately 32 more expected to be hired by the end of the year. Chris Enslin, vice president of tech modernization at Walmart, made the announcement onstage at VentureBeat's Blueprint conference in Reno, NV, USA.
"We have a vast amount of data that we haven't truly democratized or captured the value out of it to create new products," Enslin said, discussing the opportunity Walmart sees in investing in these emerging technologies.
Earlier this year, Recode reported that a new initiative from Walmart called Project Kepler reportedly aims to develop a store that uses computer vision technologies to replace cashiers. Part of Walmart's startup incubator Store No. 8, Project Kepler—according to people familiar with the project—is to create a physical store that would operate without checkout lines of cashiers, similar to Amazon's Go store, which was just opened to the public.
Located in Seattle, WA, USA at the company's headquarters, Amazon Go was previously only open to Amazon employees. The shopping experience, according to Amazon, is made possible by the same types of technologies used in self-driving cars. That is, computer vision, sensor fusion, and deep learning technologies. With "Just Walk Out" technology, users can enter the store with the Amazon Go app, shop for products, and walk out of the store without lines or checkout. The technology automatically detects when products are taken or returned to shelves and keeps track of them in a virtual cart. When the shopping is finished, users leave the store and their Amazon account is charged shortly thereafter.
In terms of the type of vision systems that was used in the Amazon setup and could potentially be used by Walmart; Amazon's patent filings show that the cameras used in Amazon Go may include RGB cameras, depth sensing cameras, and infrared sensors. Within the patent filings, however, are some additional details that suggest simply using the app to enter may not be quite as simple as it sounds. It is noted that upon detecting a user entering and/or passing through a transition area, the user is identified, and that various techniques may be used to identify the user. This includes a camera that captures an image that is processed using facial recognition, and that "in some implementations, one or more input devices may collect data that is used to identify when the user enters the materials handling facility."
Walmart director of engineering and Dallas office lead Carlos Riojas told VentureBeat that the company chose Dallas due to its proximity to a number of universities, including the University of Texas at Dallas and Baylor University, its attractiveness to young professionals, and Walmart's preexisting presence in the city. (Walmart has more retail stores in Dallas-Fort Worth than any other U.S. market.)
One project that the office is currently working on, according to VentureBeat, is determining how to use computer vision to detect spills in store aisles more quickly. Riojas explained that the office has started its proof-of-concept testing this week at 40 stores, collecting videos and images to begin training their computer vision models.
"We rely on rely on physical inspections to do this today, and have a huge opportunity to automate it," Riojas said in the article.
Walmart also opened a second emerging technologies office this year in Austin, TX, USA, which is expected to have around 50 employees by the end of the year. The Dallas office will officially open on April 5, 2018.
View the VentureBeat article.
Share your vision-related news by contacting James Carroll, Senior Web Editor, Vision Systems Design

To receive news like this in your inbox, click here.
Join our LinkedIn group | Like us on Facebook | Follow us on Twitter