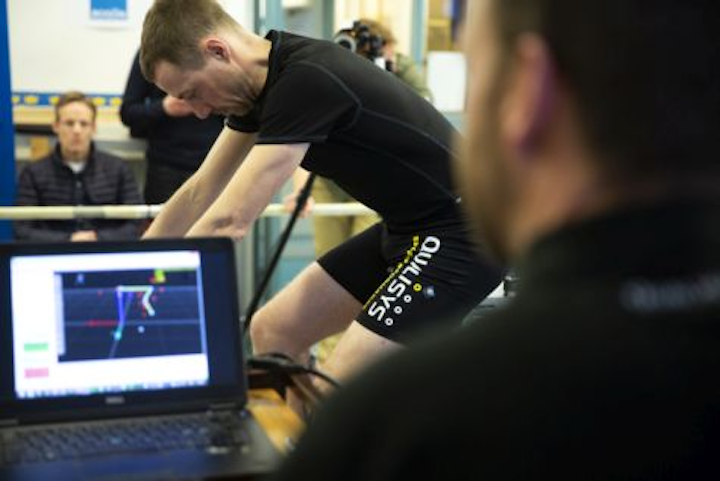 Optical motion capturing measurement and analysis company Qualisys has partnered with Monark Exercise AB, a developer and manufacturer of cycle ergometers, treadmills and exercise bikes for hospitals, health care facilities, sports medicine institutions and research laboratories, to offer a combined cycling and running analysis system.
The two companies signed a cooperation agreement to offer complete integration of two different systems into one solution, including cameras, bicycle trainer, report, guidance, and additional integrated technologies. "The natural relationship between motion capture and sport analysis, especially for running and cycling, makes this an effortless step. This product will simplify the analysis work tremendously as all data is synchronized and combined into one report", says Mikael Swarén, Product Manager at Monark Exercise.
The cycling and running analysis packages come with Monark Exercises' premium cycle ergometer and treadmill and is monitored by a Qualisys system that performs full-body biomechanical analysis of the captured motion data. Motion data in the system is captured with a Miqus M3 camera from Qualisys. This camera is based on a 2 MPixel image sensor that captures images at 340 fps at full resolution and 650 fps at 0.5 MPixel resolution. Additionally, the camera features a GigE interface, 2.9 ms camera latency, 5 ms system latency, and a 15m maximum capture distance.
With feedback from Qualisys analysis software, users can isolate problem areas and identify small nuances, while key parameters are calculated and presented in a final report. The results of the analysis can be published on the web and the report follows HTML5 standards and works on most browsers and devices. Within the report, more in-depth details can be culled, including contain observations, recommendations, and training advice from a running or cycling expert
"Monark and Qualisys are already serving the same customers and we are really excited to now be able to offer this product to the market as it creates significant added value to customers", says Patrik Almström, Market Director Europe at Qualisys.
View more information on Qualisys.
Share your vision-related news by contacting James Carroll, Senior Web Editor, Vision Systems Design

To receive news like this in your inbox, click here.
Join our LinkedIn group | Like us on Facebook | Follow us on Twitter