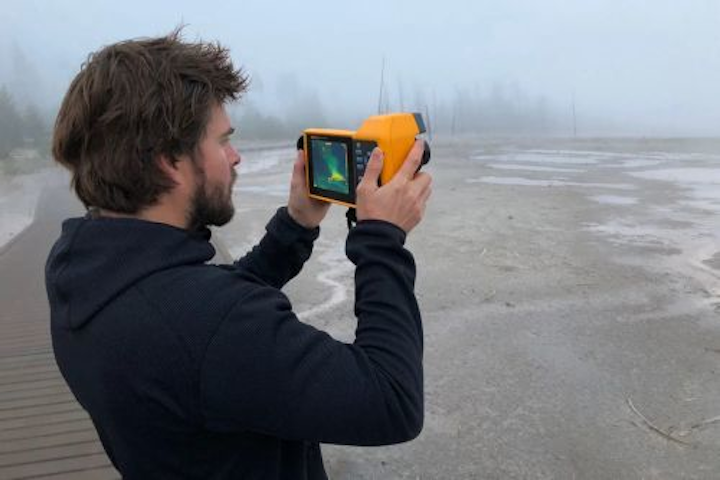 As part of National Geographic and Plimsoll Productions' YELLOWSTONE LIVE event, infrared cameras will be used during a live television event to provide temperature data to demonstrate the power and heat generated by thermal activities at the park, including a thermalaerial view of Old Faithful erupting.
Yellowstone National Park—which is located mostly in Wyoming and spreads into parts of Montana and Idaho—has more than 10,000 hydrothermal features, including steam vents, hot springs, mud pots, and geysers. To help "tell the story of the park in as much detail as possible," the production team from Plimsoll Productions opted to use infrared cameras from Fluke to provide temperature data for the park.
"We have the Fluke cameras so that we can see that when these jets come up that they're hundreds of degrees Fahrenheit hot," Peter Fison, producer for Plimsoll. "When you look at them with your eyes you can see the steam and the water, but you never get an idea of how hot they are. By using the thermal camera we can reveal to people how powerful the [geyser] is."
Used for the TV event will be the Fluke 580 TiX infrared camera, which can measure temperatures from -20 ˚C to +650 ˚C (-4 ˚F to 1202 ˚F) and features a 5.7 in. touchscreen. This handheld infrared camera features a 640 x 480 uncooled microbolometer infrared detector while also offering a 240° rotating screen and 4x the pixel data with on-camera SuperResolution, which creates a 1280 x 960 image.
YELLOWSTONE LIVE will feature 25 live cameras filming more than 22 million acres, across three states, two national parks, five national forests and the most remote wilderness in the lower 48 states, and will showcase the ecosystem as never seen before, according to Fison.
"On a normal shoot we can film these geysers and volcanic features and you can see it with your eyes, but it doesn't tell the full story," he said. "The full story is about volcanic heat and we can see that with thermal cameras. The camera can tell us the hottest part of the spout, and that it's over 100 degrees Fahrenheit.
He added, "The Fluke camera gives us a way to see a bigger picture on these volcanic features. It has a real simple interface. You can point to where the hottest bit is and where the least hot bit is, and I think that's a simple concept for the audience to get. Even when we're filming the mist and fog of morning when you can't see anything, a thermal camera sees something new."
YELLOWSTONE LIVE runs on National Geographic August 5 – August 8.
View more information on YELLOWSTONE LIVE.
Share your vision-related news by contacting James Carroll, Senior Web Editor, Vision Systems Design

To receive news like this in your inbox, click here.
Join our LinkedIn group | Like us on Facebook | Follow us on Twitter