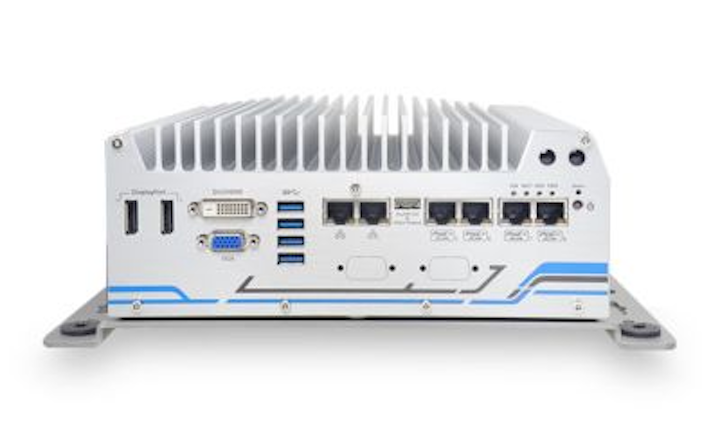 Targeting mobile surveillance applications, including in-vehicle applications, the Nuvo-5608VR can provide power and collect HD video streams for up to eight IP Power over Ethernet cameras. The system features a 6th-gen Core i7 Intel CPU for real-time video analysis and can accommodate up to two 3.5" hard drives configured in RAID 0 or 1 to support more than 24TB storage capacity to record 8-CH, 1080p @H.264 video cameras for more than three months.
Additionally, the Nuvo-5608VR features two GigE ports, four USB 3.0 ports, two USB 2.0 ports, and a dedicated 3.5" HDD heat-spreader design for optimal thermal performance, as well as functions for in-vehicle application, such as ignition power control, four full-size mini-PCIe sockets with SIM support, DIO, and built-in CAN bus 2.0.
To Learn More:
Contact:Neousys Technology
Headquarters: Taipei, Taiwan
Product: Nuvo-5608VR mobile surveillance system
Key Features: Accommodates up to eight PoE cameras, Intel 6th-gen Core i7 Intel CPU, two GigE ports, four USB 3.0 ports, two USB 2.0 ports.
What Neousys Technology says:
View more information the Nuvo-5608VR.

View More Products| Locate a vendor or system integrator | Receive e-mail updates
Share your vision-related news by contacting James Carroll, Senior Web Editor, Vision Systems Design

To receive news like this in your inbox, click here.
Join our LinkedIn group | Like us on Facebook | Follow us on Twitter