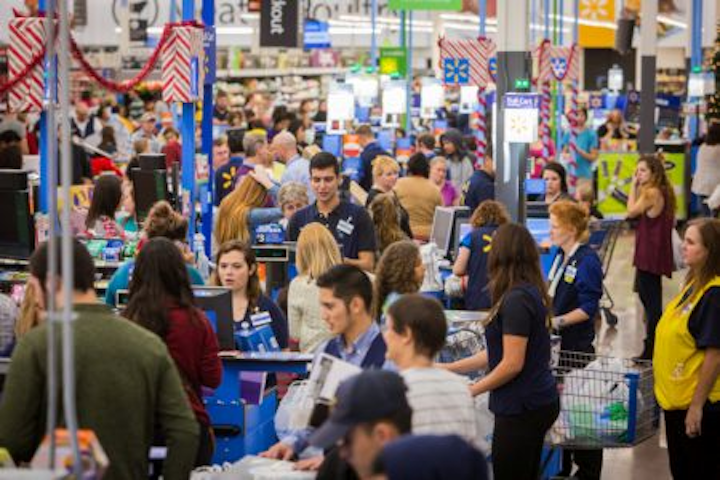 A new initiative from Walmart called Project Kepler reportedly aims to develop a store thatuses computer vision technologies to replace cashiers, according to a report from Recode.
Part of Walmart's startup incubator Store No. 8, Project Kepler—according to people familiar with the project—is to create a physical store that would operate without checkout lines of cashiers, similar to Amazon's Go store, which was announced more than a year ago, but is not yet open to the public.
Amazon Go is currently only open to company employees in Seattle, with an aim of opening it to the public at some point soon. The shopping experience, according to Amazon, is made possible by the same types of technologies used in self-driving cars. That is, computer vision, sensor fusion, and deep learning technologies. With "Just Walk Out" technology, users can enter the store with the Amazon Go app, shop for products, and walk out of the store without lines or checkout. The technology automatically detects when products are taken or returned to shelves and keeps track of them in a virtual cart. When the shopping is finished, users leave the store and their Amazon account is charged shortly thereafter.
Patent filings from Amazon show that the cameras used in Amazon Go may include RGB cameras, depth sensing cameras, and infrared sensors. It stands to reason that Walmart would utilize similar technologies, given what they are attempting to accomplish. However, just like Amazon Go, Walmart will have its hands full when it comes to successfully opening one of these stores to the public. Also contained within the Amazon filings are some details that suggest that simply using the app to enter may not be quite as simple as it sounds. (Editor's note: Learn more about these details here.) This can be further confirmed by the fact that Amazon's Go store has been severely delayed with report noting that the technology is not working well with the store is crowded.
Walmart's Project Kepler is still in an early stage of development and may never develop into something permanent or widespread, but still, the fact that the company has posted a job listing for a "computer vision engineer" that will help to create a "best-in-class consumer experience in the physical retail space," shows that the interest is indeed serious.
View the Recode article.
Share your vision-related news by contacting James Carroll, Senior Web Editor, Vision Systems Design

To receive news like this in your inbox, click here.
Join our LinkedIn group | Like us on Facebook | Follow us on Twitter