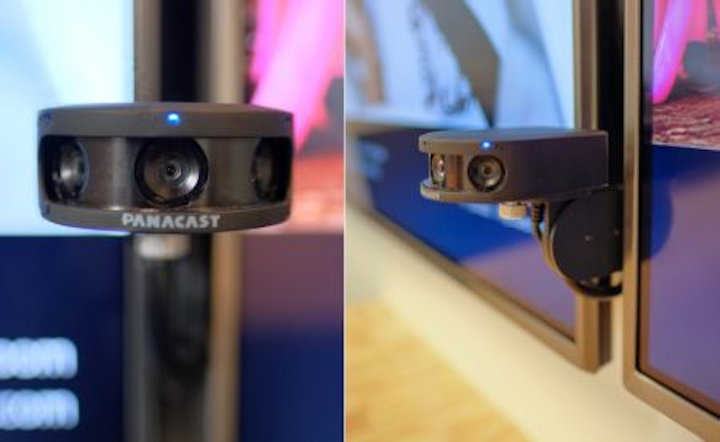 Altia Systems, Zoom Video Communications, and Uber have announced the successful deployment of more than 850 Zoom Rooms—which utilize intelligentvision communications technology—in Uber offices worldwide.
The systems are being used to connect more than 18,000 Uber employees in hundreds of offices around the world. Altia Systems' PanaCast 2 camera is used in the conference rooms, which utilize a cloud-based enterprise video communications software for conference rooms from Zoom. Panacast 2 is a panoramic camera system with three separate image sensors and an adjustable field of view through a USB video class (UVC) PTZ (pan, tilt, zoom) command set. The camera has USB 2.0 and USB 3.0 interfaces and features a 180° wide by 54° tall field of view.
To capture images from all three imagers and to provide panoramic video, the PanaCast features a patent-pending Dynamic Stitching technology, which does an analysis of the overlapping image. Once the geometric correction algorithm has finished correcting sharp angles, the Dynamic Stitching algorithm creates an energy cost function of the entire overlap region and comes up with stitching paths of least energy, which typically lie in the background. Processing is done on the on-board PanaCast video processor, and video is rendered in a mathematically-correct cylindrical projection with ultra-low latency of <~5ms from photons to USB data, according to the company.
Computation is done in real time on a frame-by-frame basis to create the panoramic video. Each video frame is 1600 x 1200 pixels from each imager and joining these frames from three imagers together creates a 3840 x 1080 image. Each imager in the PanaCast 2 camera are 3 MPixel CMOS image sensors that can reach up to 30 fps in YUV422 and MJPEG video format.
Altia Systems worked closely with Ravi Sharma, the head of collaboration and AV services at Uber, and Uber's technical team to deploy innovative equipment and software as a part of Uber's AV 2.0 initiative. This initiative, according to the company, aims to improve quality across all audio and video components, boost productivity through seamless collaboration, and streamline remote support while remaining simple and cost-effective.
"When people walk into a conference room, they don't want to struggle with the technology - they want it to just work," said Ravi. "PanaCast provides that while significantly enhancing employee productivity by streamlining collaboration with its intelligent features. That's why we've deployed hundreds of PanaCast devices across Uber's conference rooms globally," he said. "You have five chairs per huddle room. If two are not in the camera's field of view, those two chairs are not usable and you've lost those seats at the table – literally."
PanaCast's 180° field of view allows Uber's teams to utilize 100% of any conference or huddle room, leaving no space wasted, or team members out of sight. Additionally, Uber is using PanaCast's Intelligent Vision products, such as Intelligent Zoom and PanaCast Vivid, to help enhance participants' experience with autonomous intelligent technology.
"Zoom and Altia Systems have collaborated to integrate PanaCast controls into the Zoom Room control panel via an open API. This capability was first deployed by Uber to simplify and enhance participants' experience, and is now available widely," said Oded Gal, head of product management at Zoom. "Zoom's overarching goal with Zoom Rooms is to create an efficient, easy-to-use solution, which we've accomplished by incorporating intelligent camera controls such as PanaCast Intelligent Zoom. These tools help streamline the communications experience for customers around the world."
View more information on Altia Systems.
Share your vision-related news by contacting James Carroll, Senior Web Editor, Vision Systems Design

To receive news like this in your inbox, click here.
Join our LinkedIn group | Like us on Facebook | Follow us on Twitter