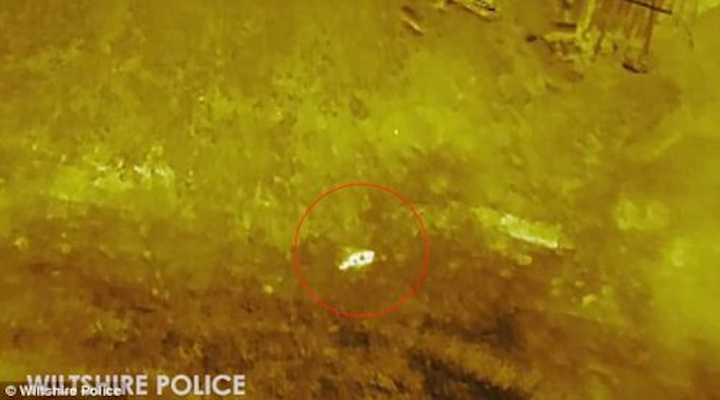 Police from Wiltshire, UK used a drone equipped with an infrared camera to find an 83-year-old woman suffering from dementia who was missing for more than five hours in Corsham.
The drone, a DJI Inspire 1, was dispatched and arrived at the scene to search for the patient around 30 minutes after officers began searching on foot, according to The Daily Mail. DJI's Inspire 1 is a 6.27 lb. drone that can travel at speeds of up to 49 mph (79 kph) in ideal conditions and 22 mph in wind conditions for up to 18 minutes at a time.
Multiple payload options for the Inspire 1 are available, but this model was equipped with the Zenmuse XT thermal imaging payload, which was developed in collaboration with FLIR. The camera is based on an uncooled VOx microbolometer in either 640 x 512 or 336 x 256 format with a 17 μm pixel size and a spectral band of 7.5 to 13.5 μm.
The camera enabled the officers on the ground to view live images and to quickly search large areas. Within an hour of arriving, the drone located a heat source on the edge of a wooded area which appeared to be an outline of a person laying on the ground. In a video released by the police department, according to the article, the drone can be seen hovering over the area directly above the woman and helping to guide officers on the ground to locate her.
Police and Crime Commissioner Angus Macpherson commented: "Once again this new technology has saved the life of a vulnerable member of our community by getting out there, getting up there and getting the job done quickly."
Macpherson continued, "I am really proud of our Special Constabulary volunteers who give up their free time to do this and I'm committed to ensuring that Wiltshire remains at the forefront of technology to find new and better ways to protect our communities."
Wiltshire police have two DJI Inspire 1 drones that can be equipped with an HD camera or a thermal imaging camera.
Image: Wiltshire Police
View The Daily Mail article.
View the Wiltshire Police release.
Share your vision-related news by contacting James Carroll, Senior Web Editor, Vision Systems Design

To receive news like this in your inbox, click here.
Join our LinkedIn group | Like us on Facebook | Follow us on Twitter