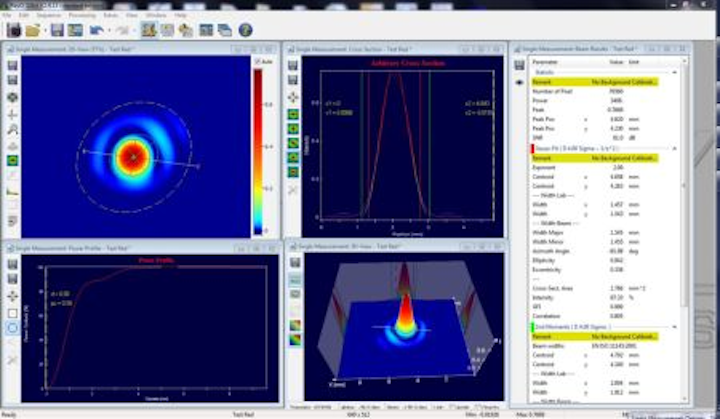 When using lasers in applications such as welding and cutting of materials, medical applications, or surveying and ranging; it is important to measure the spatial intensity of the laser, as extensive use can lead to degradation and loss of efficiency. Machine vision technology—in the form of a beam profiler—can help to assess the "health" of a laser.
Various types of lasers are used in applications such as the ones mentioned above, including those in the 900 to 1800 nm (SWIR) range. To assess lasers in the SWIR range, Axiom Optics developed the CinCam InGaAs SWIR Beam Profiler, which is used to measure various characteristics of the laser, including beam profile or 2D power distribution, 2D beam size measurements, beam divergence, focusing ability of the laser (beam quality with M2), and pointing stability.
The CinCam InGaAs is a turnkey solution is available in three models: CinCam InGaAs 320, CinCam InGaAs 640, and the CinCam InGaAs 636. Between the three of them, according to the company, most, if not all beam sizes can be profiled. Providing the SWIR-based vision within the system are SWIR cameras from Allied Vision. The three Goldeye SWIR models used in the CinCam InGaAs models are the Goldeye G-008 TEC1 (320 x 256 resolution at 334 fps, Goldeye G-032 TEC1 (0.3 MPixels at 100 fps), and the Goldeye G-033 (0.3 MPixels at 301 fps).
These GigE cameras from Allied Vision are sensitive in the SWIR spectrum from 900 to 1700 nm, and are based on IngGaAs focal plane arrays and offer thermo-electric (TEC) sensor cooling with no fan (G-008 TEC1, and G-033 TEC1), and a nitrogen-filled cooling chamber that enables dual-stage thermo-electric cooler down to -60°C (G-032 TEC2). The G-008 TEC1 is used in the CinCam InGaAs 320, Axiom Optics' "entry level" model, in terms of pricing, while the Goldeye G-033 TEC1, used in the CinCam InGaAs 640, has the smallest pixel pitch, 15 µm, allowing the profiling of smaller beams and acquisition of additional beam details. The Goldeye G-032 TEC1 provides the largest active area allowing profiling of large beams or multiple beams at once with the CinCam InGaAs 636.
Axiom Optics also utilized RayCi software from Cinogy, which supports Windows (XP, Vista, Windows 7 and 8) and can simultaneously control several beam profiler cameras on a single computer. The software enables users to access standard settings and complete several laser beam characterizations, which are captured in detailed illustrations, which ensure the "optimal visualization of measurement results during profiling." Additionally, comparisons between live data and previously-stored data is possible with RayCi's ability to simultaneously analyze both.
"The Goldeye is the perfect camera line for our system for multiple reasons," Nick Lechocinski, Sales/3D sensor and camera specialist at Axiom Optics, explained. "The Goldeye's three models address our customers' varying requirements in terms of price and performance. Furthermore, the Goldeye has TEC1 cooling (thermo-electric cooling), which is mandatory for quantitative measurements completed in laser beam profiling."
View more information on theCinCam InGaAs SWIR Beam Profiler.
View more information on Goldeye cameras from Allied Vision.
Share your vision-related news by contacting James Carroll, Senior Web Editor, Vision Systems Design

To receive news like this in your inbox, click here.
Join our LinkedIn group | Like us on Facebook | Follow us on Twitter