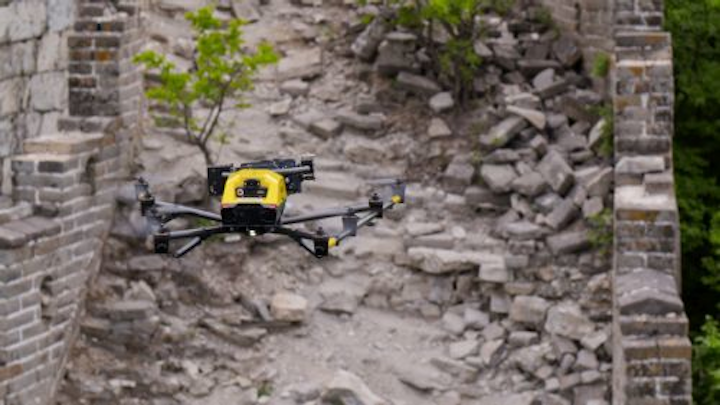 As part of a collaboration with the China Foundation for Cultural Heritage Conservation (CFCHC), Intelwill deploy vision-guideddronesto help protect and preserve the Jiankou section of the Great Wall of China.
This section of the Great Wall dates back to the Ming dynasty, and in its more than 450 years of existence, has been affected by natural erosion and human destruction. Portions of the wall that are popular with tourists have been preserved and renovated over time, but the 12-mile Jiankou section is one of the steepest and most dangerous to access, and as a result, it has not been preserved for hundreds of years.
An Intel Falcon 8+ drone (pictured, at the Great Wall) will be used for aerial inspection and surveying of the Jiankou section of the wall. As part of the project, the drone will capture tens of thousands of high-resolution images of areas proven to be too difficult or dangerous for human access, according to Intel. To do so, the Intel Falcon 8+ has a number of sensor payloads. While not specifically named by Intel, one such option—considering the task at hand—would be the Inspection Payload.
Within the inspection payload option are two cameras: a Panasonic Lumix RGB camera and a Tau 2 infrared camera from FLIR. The Panasonic camera features a 12.1 MPixel CMOS image sensor, 30x optical zoom, and can fly for up to 18 minutes at a time. The Tau 2 640 from FLIR features a 640 x 512 uncooled VOx microbolometer detector with a 17 µm pixel size and a spectral band of 7.5 to 13.5 µm.
Other payload options for the Falcon 8+ include the Intel Imaging Payload with Obstacle Avoidance, the Intel High Resolution Imaging Payload, and the Sony Alpha 7R. >>> Learn more about them here.
Images captured by the payload are then processed into a 3D model, which provides preservationists with a digital replica of the current state of the wall. Traditionally, notes Intel, surveys of the Great Wall are a manual process, using a tape measure or visual inspection by people over a monthlong period. Intel's technology enables the same inspections to be achieved in a matter of three days, producing more accurate data that helps conservationists develop an informed and effective repair schedule, according to the company.
With the images, the research teams will use artificial intelligence technologies from Intel to help analyze the types of repairs needed while calculating the time, labor, and cost of materials for repair. A team from Wuhan University LIESMARS will provide specialized support with implementing the new technologies, said Intel.
View more information on the Wall preservation project.
Share your vision-related news by contacting James Carroll, Senior Web Editor, Vision Systems Design

To receive news like this in your inbox, click here.
Join our LinkedIn group | Like us on Facebook | Follow us on Twitter