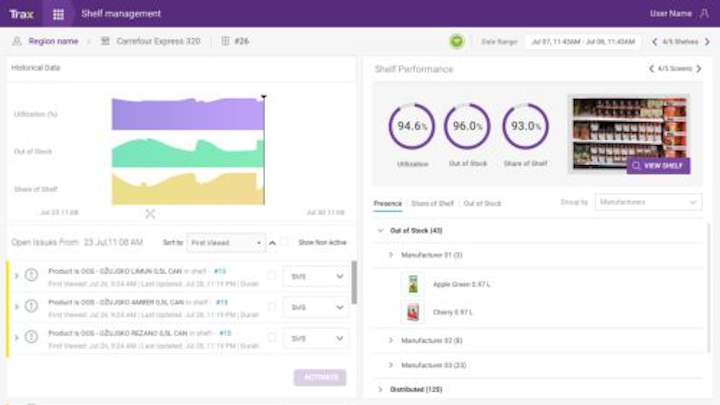 Trax, a Singapore-based company that develops a computer vision and analytics solution for retail, has completed a $125 million round of funding led by Boyu Capital, one of the largest private equity investment firms in Greater China.
The company describes its product as providing "in-store execution, market-measurement and data-science solutions for consumer-packaged goods (CPG) brands sand retailers by harnessing its cutting-edge computer vision platform to process photos taken in store with mobile devices to deliver real-time, granular shelf and store-level insights."
With Trax, images of store shelves are captured via mobile apps, fixed cameras, or robots, and proprietary computer vision and deep learning algorithms are used to identify objects. From there, Trax produces digitized shelf data with every single stock keeping unit (SKU; e.g. Coca Cola 300 ml) or object (price label), with approximately 96% accuracy. GPUs are used to accelerate image recognition, deep learning, and analytics applications, and algorithms are used to detect anomalies such as incomplete shelf capture and spot new SKUs. The infrastructure is cloud-agnostic, available at 99.95%, enabling Trax to recognize 7 million images per month.
Founded in 2010, Trax lists Warburg Pincus and Investec among its shareholders. To date, the company has raised US $235 million in total funding and operates in more than 50 countries with 175 client engagements. In an alliance in 2017 with Nielsen, Trax introduced its Shelf Intelligence Suite, offering brands shelf insights to continuously measure and improve their shelf strategy and execution.
In addition to working with CPG companies worldwide, Trax is also currently engaged in several digital transformation pilot projects with global retailers aimed at providing continuous shelf tracking with wireless Internet of Things cameras. With the latest round of funding, Trax will further support global expansion of the company and accelerate mass-market deployment of its retail solutions, according to the company. One core area of expansion will be Greater China, where Trax says it has already established a strong market presence.
"We could not be more thrilled to have Boyu Capital as a major backer of Trax alongside Warburg Pincus, our largest shareholder," said Joel Bar-El, Trax CEO and co-founder. "Their experience and insights into the scale and pace of China's retail technology environment will be incredibly valuable. The injection of funds from Boyu will allow us to drive continued innovation of our technologies at our computer vision center of excellence in Tel Aviv, Israel and to explore establishing an additional engineering center in China."
View more information on Trax.
Share your vision-related news by contacting James Carroll, Senior Web Editor, Vision Systems Design

To receive news like this in your inbox, click here.
Join our LinkedIn group | Like us on Facebook | Follow us on Twitter