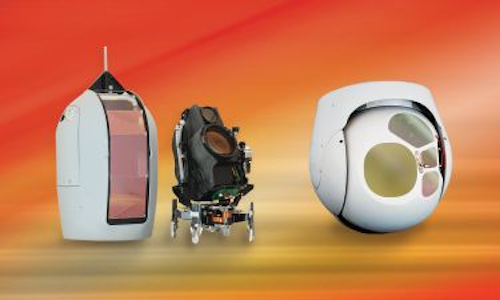 On display at SPIE Defense, Security+Sensing this week are two gyro-stabilized systems from HoodTech that are designed for small manned and unmanned systems. The HoodTech 09EO1 is a high-zoom, electro-optical wavelength operation (from 400-900 nm) daylight imaging system with an optional articulated nose enclosure for UAVs. The HoodTech 11EOIR1 includes continuous zoom EO and MWIR imagers, laser pointer and eyesafe laser rangefinder. Both systems are designed for use with small unmanned aircraft systems and on piloted, fixed-wing airplanes, blimps, ground, and surface vehicles.
To Learn More:
Contact:HoodTech
Headquarters: Hood River, Ore., United States
Product: HoodTech 09EO1, HoodTech 11EOIR1.
Key Features: Multiple operating modes, 160x zoom, 640 x 480 pixel MWIR, 720 x 480 pixel EO.
What HoodTech says:
View a HoodTech press release.
View More Products
Locate a vendor or system integrator in our Buyer's Guide
Share new products that you think are particularly interesting or helpful by contacting James Carroll, Senior Web Editor, Vision Systems Design