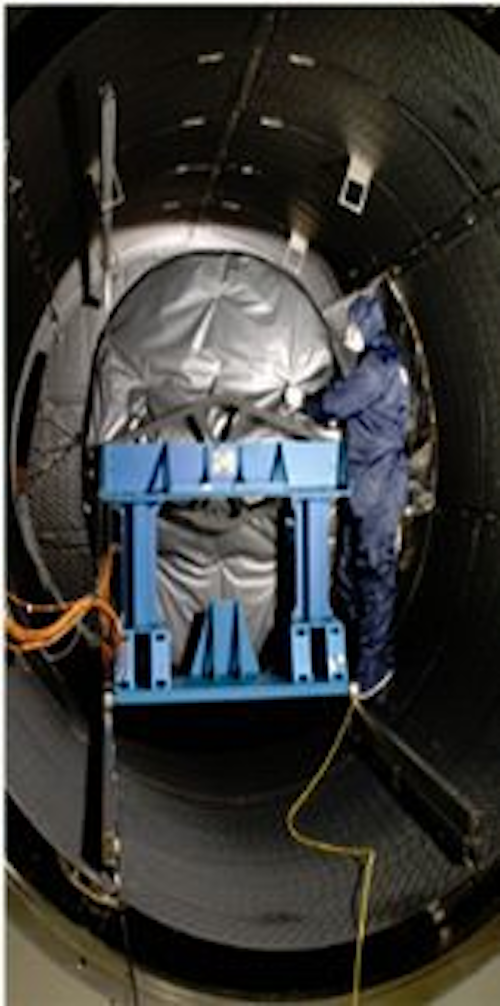 A camera and spectrometer for the James Webb Space Telescope -- the successor to the Hubble Telescope -- have completed cryogenic testing at the UK's Science and Technology Facilities Council's (STFC) RAL space center in Oxfordshire in England.
This testing subjected the Mid-Infrared Instrument (MIRI) to the harsh conditions it will experience when it is launched into space onboard the Webb Telescope inside RAL Space's thermal space test chamber.
Inside the chamber, specially constructed shrouds cooled to 40K surround the instrument to represent the environment that it will see in operation. Simulated stars were used to exercise all the different ways in which scientists will use the instrument after launch.
The James Webb Space Telescope -- a partnership between ESA, NASA, and the Canadian Space Agency -- is central to the UK Space Agency's science program, which funds the UK's involvement in the project. The STFC's UK Astronomy Technology Centre (UKATC) is leading the European team developing MIRI in a partnership with NASA's Jet Propulsion Laboratory (JPL; Pasadena, CA, USA).
A major part of the UK role in the program is the Assembly Integration and Test (AIV) of the system. MIRI was integrated from key parts that have been developed at institutes across Europe and the US.
Each of these parts of MIRI have separately undergone exhaustive testing already to make sure they can survive the rigors of a journey into space and remain operational for the life of the mission. But the test campaign at RAL is the only opportunity to ensure that all of the parts of the instrument function together properly and for scientists to obtain critical performance data before the launch.
The MIRI team are now analyzing the data from the cryogenic test in parallel with completing the remaining warm testing and preparing the instrument for delivery to NASA's Goddard Space Flight Center. There it will be integrated with the other instruments, the telescope, and eventually the spacecraft.
MIRI's ultimate destination is L2 -- a gravitational pivot point located four times further away from Earth than the Moon, on the opposite side of Earth from the Sun.
-- Posted by Vision Systems Design