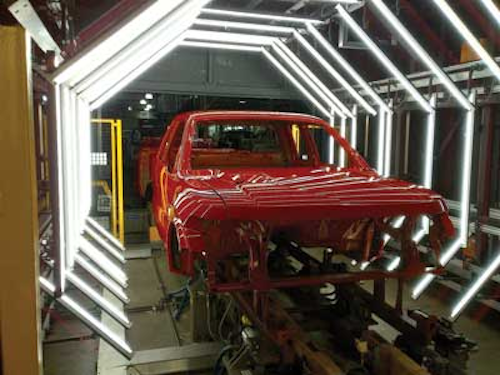 Ford Motor Company (Dearborn, MI, USA;www.ford.com) has installed automated vision systems in three of its assembly plants throughout the world which have the sole task of identifying dirt particles in the paint of various automobile types.
The system used in Dearborn, for example, inspects Ford F-Series trucks. Sixteen high-resolution cameras take over 1,000 images of each painted vehicle surface at 15fps. These images are then are composited to create a full 3D model of the car bodies that is then compared to a computer model. According to Ford, the vision system can detect dirt particles that are smaller than a grain of salt.
"We are trying to find things that are almost beyond the threshold of human detection," said Tom Dougan, project manager of global paint applications at Ford. "Operators used to spend 70% of their time inspecting the vehicle and now can focus on polishing the vehicle and ensuring that it meets our quality standards."
In addition to the Dearborn plant, the vision systems are used in an assembly plant in Valencia, Spain for Ford C-MAX, and a Louisville, KY truck plant for Ford Expedition and Super Duty vehicles. Ford will also introduce the system later this year and next in five additional assembly plants in the United States and Canada.
More Vision Systems Issue Articles
Vision Systems Articles Archives