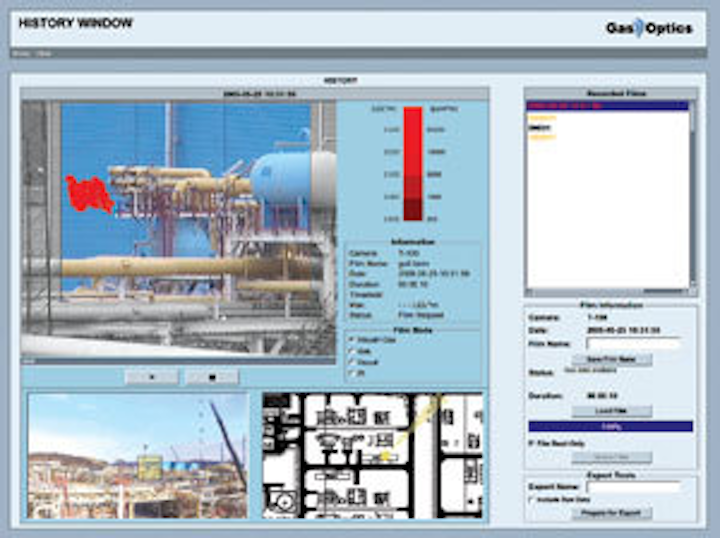 Andrew Wilson, Editor, andyw@pennwell.com
To help reduce the risks of industrial gas leaks, GasOptics (Lund, Sweden; www.gasoptics.com) has developed its Gas Vision System (GVS) that pinpoints and evaluates gas leaks in real time. Each GVS comprises one or more cameras connected by Ethernet that communicate to a system that displays images on a host console.
Relevant thermographic images and video clips also can be recorded and saved for later evaluation. Built for continuous operation in tough environments such as onshore gas-processing plants and offshore production platforms, the systems have a range of 20-250 m and incorporate two IR cameras with one visible-spectrum video cameras capable of capturing images at 20 frames/s.
GasOptics has avoided conventional spectrometer designs in the development of its GVS. Instead, the company uses a technique known as gas correlation imaging, which relies on monitoring the full gas spectrum (see figure). Although the first version of the camera has been optimized for methane detection, the system can be configured to detect other gases.
To detect whether any methane is present, the camera captures two simultaneous IR pictures. One is filtered through a cell of methane, then compared and subtracted from the other. The resultant image data are subsequently colored according to concentration, then superimposed onto the live visible spectrum. When displayed, the final video frame represents both the gas flow and concentration of leaks as a moving colored plume that can be rapidly understood and evaluated.
To capture and compare images from the two internal cameras simultaneously, GasOptics needed an LVDS frame grabber for Linux to integrate with the chosen CPU in a standard stack of PC/104-Plus boards. As a result of its experience in developing LVDS and Camera Link digital frame grabber, Active Silicon (Uxbridge, UK; www.activesilicon.com) suggested using Camera Link to reduce cabling costs. Therefore, GasOptics developed its own LVDS-to-Camera Link protocol, while Active Silicon engineers helped integrate its Phoenix frame grabber in the chosen PC/104 subsystem stack.
"The GVS is an expensive system that will appeal to major companies," says Stefan Nilsson of GasOptics. "Many of these have their own approval procedures, which can be lengthy and require benchmark testing." At a recent benchmark test as part of a survey of gas-visualization systems in The Hague, initiated by a European oil and gas company, GasOptics technology was shown to be superior in detecting very small methane leaks not detected by any of other products of companies participating.