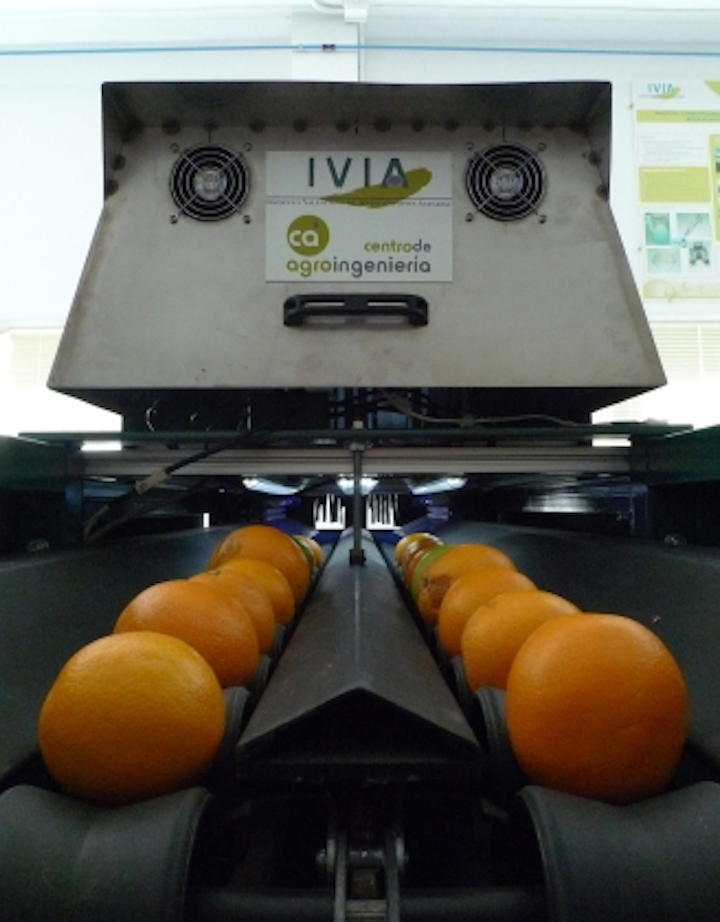 Scientists at the Valencian Institute of Agrarian Research (IVIA; Valencia, Spain) have created an optical inspection device that detects and separates rotten oranges, a second device that classifies mandarin-orange segments according to their quality, and a third that assists citrus-fruit pickers in the field.1 All prototypes use machine vision and image processing to automatically inspect the fruits.
Until now, rotten oranges have been detected manually under UV light that causes the essential oils in damaged rind to fluoresce. The job is carried out in strictly timed shifts due to the risk that the UV radiation poses.
José Blasco, researcher at the IVIA and a member of the team that patented the new approach, explains that "through collaboration with a company within this sector, we have developed software and hardware that can locate rotten citrus fruits and discard those that are not fit for sale."
Another of the machines, in the presence of visible light, classifies citrus fruits on the production line according to their quality, coloring, and type of damage that the skin presents. In this way, first-class fruits that are destined for more-demanding markets (such as Trader Joe's) can be separated from second-class fruits that are perfectly edible despite having some small defect like a bruise or a scratch. The analysis is carried out at a speed of 15 to 20 pieces of fruit per second.
28 segments per second
Researchers have also developed a device that automates the inspection of ready-to-eat mandarin segments. After being individually separated on a vibrating platform, the segments are transported on a conveyor belt to the inspection area, which can examine up to 28 segments per second. At this stage, the broken segments are separated from the whole segments -- and the same goes for those with or without seeds. Skin and any other foreign bodies are also identified and eliminated from the production line.
One of the latest efforts focuses on the use ofhyperspectral imaging, which provides individual spectral measurements for each pixel. This method can identify chemical compounds whose concentrations can change as the fruit ripens or rots, making it possible to predict the perfect time to eat the fruit or to track the evolution of a disease in the fruit.
The optical hardware is designed to assist aself-propelled prototype orange picker the size of a tractor that is capable of classifying oranges while still out in the field.
REFERENCE
1. Sergio Cubero et al., Food and Bioprocess Technology 4(4), p. 487 (2011); DOI: 10.1007/s11947-010-0411-8.
Republished fromLaser Focus World -- By John Wallace, Senior Editor