Fingerscan ID system uses IR technology
To date, the high false acceptance and rejection ratios (FARs and FRRs) of many biometric systems, especially those using facial recognition, have rendered them less than useful.
Jun 1st, 2005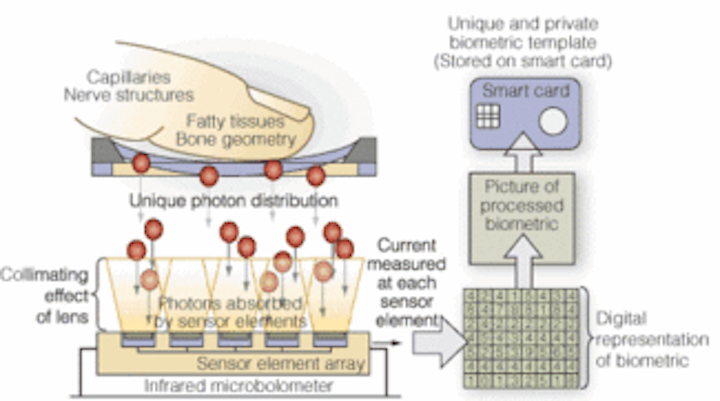 To date, the high false acceptance and rejection ratios (FARs and FRRs) of many biometric systems, especially those using facial recognition, have rendered them less than useful. However, biometric-system developers are actively pursuing alternative technologies to lower these rates. With the lowest FAR and FRR of any technology, iris-recognition systems are now available from Iridian Technologies (Moorestown, NJ, USA; www.iridiantech.com) and others (see Vision Systems Design, November 1999, p. 30).
Iris scanning has the lowest FAR of any biometric (1 in 1 million), but the technology's difficulty in use has limited its commercial acceptance. Other technologies, such as fingerprint identification, are also gaining in popularity, with more than 50 vendors offering fingerprint readers for personal identification (see Vision Systems Design, March 2001, p. 25).
In 2000, PosID (Lexington Park, MD, USA; www.posidinc.com) received $50,000 from the Maryland Technology Development Corporation (Columbia, MD, USA; www.marylandtedco.org) to develop Thermo-ID, a biometric authentication system that detects/collects subdermal thermal variations in the thumb and fingertips for identification purposes. The company has already developed a demonstration prototype but seeks to simplify the technology by building a beta-type version that will incorporate the entire system into a PC card format.
PosID's Thermo-ID processes infrared patterns in the fingertips, using a camera to measure the thermal energy emitted from the aggregation of blood vessels, muscles, and fat deposits-characteristics that are unique to each individual (see figure). According to Raymond Nowak, PosID CEO, the direct-contact system differs from other biometric methods in that it is not dependent upon background lighting, allowing for flexibility and portability. Also, unlike fingerprints, subdermal thermal properties cannot be manipulated or stolen. PosID has conducted preliminary testing on several thousand image samples, and the system shows an FAR and FRR of less than 0.001%.
The Thermo-ID system does not collect fingerprint artifacts (latent and vulnerable to collection). The IR subdermal artifact focuses on the unique and persistent IR biometric artifact, which is nonlatent and invulnerable to exploitation and collection.
At the 2005 SPIE Defense and Security Symposium, PosID announced that its latest biometric authentication system would incorporate uncooled IR microbolometer sensor technology from DRS Infrared Technologies (Dallas, TX, USA; www.drsinfrared.com). The system uses its 320 × 240-pixel focal-plane array (FPA) to capture the IR biometric signature.
The system creates a personal thermal map of the temperature variations in the thumb and fingertips being scanned for identification with the FPA embedded in an AIR32-C25 camera module from Vionics (Bountiful, UT, USA; www.vionics.com). This smart camera features a USB interface, which allows application software to be downloaded from a host PC and allows captured images to be processed by DLLs and Virtual Instruments from National Instruments (Austin, TX, USA; www.ni.com).
Based on a reading of more than 30,000 thermal data points, the system passively collects a unique signature of which no two are alike. This IR-derived, nonlatent artifact can then be encrypted and compared instantaneously each time a subject resubmits for identity authentication. It is 99.999% accurate for authorized users.
"While current systems like those that look at fingerprint and iris scans are good, they are vulnerable to identity fraud because they can be easily compromised (inherently latent). Thermo-ID passively collects unique IR signatures, and the biometric artifact is nonlatent. Nothing is left behind, so there is no way to copy it," Nowak says.