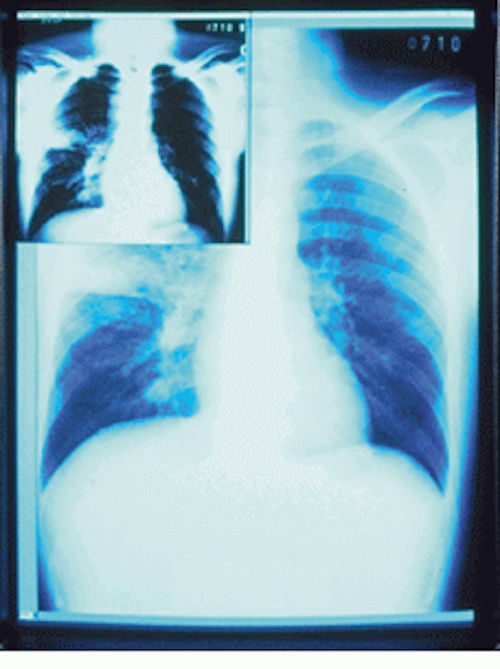 Display controllers help doctors diagnose data
By Rick Nelson, Contributing Editor
The trend toward "storing, distributing, and viewing medical images in digital form is being fueled by changes in the economy of health care and evolving technologies," says Karen Miller, sales and marketing vice president at Dome Imaging Systems (Waltham, MA). "Health-care economics will mandate a switch from expensive film-based radiology to lower-cost delivery of digital images," she adds, "with the benefit of improved diagnostics. In picture archiving and communications systems, elimination of film will reduce expenses, labor, and space requirements while providing simplified multiuser access for local and remote viewers."
Tim Elsmore, technical director of Vigra products at VisiCom Laboratories (San Diego, CA), echoes this price/performance emphasis. "Hospitals are demanding greater accuracy and flexibility when using imaging systems to diagnose patient conditions."
Traditionally, medical imaging systems have achieved high performance by combining custom and semi-custom subsystems. "In most cases," Elsmore says, "issues of cost containment, power conservation, and mobility have been secondary to demands for accuracy and performance. Integration issues, such as image compression, transmission, storage, and retrieval, have been afterthoughts. As a result, many systems use specialized processors in subsystems based on proprietary interfaces," he says. Now, the cost of proprietary, custom systems and duplicated software-development efforts are no longer tenable.
"The medical industry is coming under increased pressure to manage and control procedural costs. Even while the trend toward noninvasive treatments calls for greater reliance on medical imaging, there is a growing need for high-accuracy, low-cost imaging systems."
Choosing a bus
Efforts to achieve high performance and low cost are multifaceted. One approach is to leverage industry-standard architectures. Mark Mehall, marketing manager at Metheus (Beaverton, OR), said, "We have products that use the VME, PCI, Microchannel, Turbochannel, and Sbus. But we think PCI will be the most popular bus for medical imaging for three reasons: price, performance, and industry acceptance."
High-resolution medical-display technology is often used in radiology. But there are a range of modalities involved with medical imaging, including computed tomography (CT), magnetic resonance imaging (MRI), and ultrasound, each with particular performance requirements (see "Ultrasound gets a boost as frame grabbers move to the PCI bus," Vision Systems Design, September 1996, p. 40). Metheus is concentrating on the display of radiographs (x-rays), which have demanding monitor resolution (2560 ¥ 2048 pixels), screen refresh rate (70 Hz), and brightness (100 to 150 fL), and greater than 8-bit gray-scale.
"By restricting the display to shades of gray, more accurate radiograms can be displayed. Radiographic display generally requires more than 256 shades of gray. Metheus` display controller, the P1540, can display more than 1000 shades of gray simultaneously." In addition, he says, "radiologists want to perform real-time windowing and leveling of 12-bit images on a 10-bit display at 70 Hz and `window to window copy` operations very quickly" (see Fig. 1).
While Metheus uses the PCI bus in its 2k ¥ 2.5k-pixel medical-display controller, Sun`s SBus remains a popular architecture. On its 2048 ¥ 2560 Md5/Sun board, Dome Imaging Systems incorporates an Sbus interface that achieves 20-Mbyte/s sustained throughput, allowing real-time animation of sequential images or fast panning and scrolling of large images (see Fig. 2). Like Metheus` P1540, Dome`s boards incorporate a 10-bit DAC that implements gamma correction while providing a linear, 256-level gray-scale output.
The GXTRA/2000 from TechSource (Altamonte Springs, FL) is also designed for high-resolution gray-scale imaging, including CT, MRI, and digitized x-rays in a Sun workstation environment. Although the company does offer a 2048 ¥ 2048-pixel PCI Raptor color display-controller board, it is targeted at air-traffic-control applications.
VisiCom`s Elsmore hints at medical applications in which multimedia and data-compression capabilities will be important. "Today`s display-controller boards are the first in a new generation of digital products for the medical industry," he says. The use of image processing, coupled with requirements for accurate record-keeping, has created a need for image compression and transmission to allow remote diagnostic and consultation systems to be configured.
To meet these needs, VisiCom`s Vigra Sliver has a single-slot 6U VME bus video/graphics/audio board that provides video compression. At 1600 ¥ 1280-pixel resolution, its combination of audio and video capabilities are tailored for video conferencing, real-time video in a window, network video distribution, and video playback from a hard disk or CD-ROM.
FIGURE 1. Metheus` display controller, the P1540, can display multiple gray scales and provide windowing and leveling of 12-bit images to a 10-bit display.
FIGURE 2. SBus burst-mode interface provides 20-Mbyte/s sustained throughput rates for Dome Imaging System`s Md5/Sun. The board supports display resolutions to 2560 ¥ 2048 pixels. A look-up table provides fast window/leveling.
FIGURE 3. VME-64 compatible interface connects the VisiCom Sliver from the VME bus to the board`s local 32-bit system bus. The VME bus provides an interface to x-ray data acquisition and to the host processor, dedicated image processor, and a LAN interface that provides communication with remote x-ray analysis stations.
Choosing a medical display controller
As a systems integrator, BRIT Systems (Dallas, TX) develops systems for sharing DICOM-3 image data over a LAN. While the company`s PC-based viewing stations display 1280 ¥ 1024 images, they are not adequate for viewing digitized film images, for which the American College of Radiologists recommends 2000 ¥ 2500 resolution. Specialty systems meeting this specification start at $30,000.
Shelly Fisher, BRIT Systems president, explains the issues involved when choosing a display controller. "There are big differences between image quality on different boards--even those that appear to have the same specifications. Some may have additional features such as hardware zooming and additional memory. One board we evaluated did not even support window and leveling functions."
Another issue is driver availability. "X-Windows allows applications to be moved from board to board and lets applications run on any system that supports it. Radiologists can transfer images between screens and view and annotate them simultaneously," Fisher explains.
Other factors include bus support, X-Windows support, on-board memory, look-up tables for fast window and level support, and high refresh rates. Gray-scale level is very important, she adds. "When using 10-bit DACs, more gray levels can be displayed. But for mammography applications, 12 bits would be better."
Medical-systems integrators are benefiting from display controllers that drive high-performance displays with resolutions of 2k ¥ 2k ¥ 8-bits and greater.