CCFLs shine at SID 2002
A common application for cold-cathode fluorescent lamps (CCFLs) is liquid-crystal-display (LCD) backlighting.
Jul 1st, 2002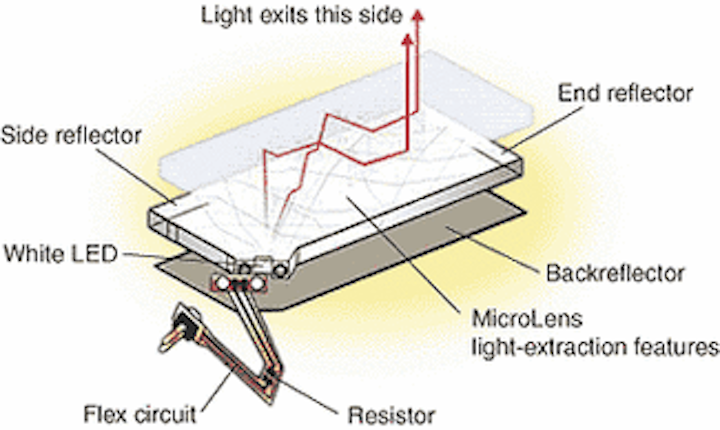 Andrew Wilson, Editor, andyw@pennwell.com
A common application for cold-cathode fluorescent lamps (CCFLs) is liquid-crystal-display (LCD) backlighting. Vendors such as Stanley Electric Sales of America (Irvine, CA; www.stanley-electric.com/) offer ranges of miniature and subminiature lamps and lighting accessories that are, in turn, integrated into LCDs.
Unlike their desktop counterparts, however, the LCDs used in medical, military, and scientific applications must often be operated in harsh environments, such as in automobiles or in sunlight-readable aircraft-display systems. To meet these demands, multiple CCFLs are used to provide the required illumination. These lighting products appeared in several exhibitor booths at the 2002 Society of Information Display (SID; San Jose, CA; www.sid.org) trade show held recently in Boston, MA.
Display vendors are teaming with dc-ac power-inverter vendors to introduce displays that are both sunlight readable and rugged. Innova Electronics (Houston, TX; www.innovaelec.com), for example, offers an LCD that uses 32 CCFLs from Stanley Electric in an 18.1-in.-diagonal, thin-film-transistor (TFT) color LCD. Based on the LQ181E1LW31 panel from Sharp (Camas, WA; www. sharpsma.com), the display provides a maximum brightness of 1050 cd/m2 (nits), 1280 X 1024 X 24-bit resolution, and an 85° viewing angle, both horizontally and vertically.
To produce the voltage needed to power-up the display, Innova Electronics enlisted the assistance of power-supply vendor Endicott Research Group (ERG; Endicott, NY; www.ergpower.com) to build a special-purpose version of the company's G2655 dc-ac inverter. "In powering the 32 CCFLs used in Innova's STS-5218-SHP-31-SXGA display," says Bill Abbott, ERG global market strategist, "we needed a start-up voltage of approximately 1800 V/lamp to ensure that all the lamps would start simultaneously." As current off-the-shelf products are not designed to power this many CCFLs simultaneously, a special-purpose module was developed," he adds.
Backlighting and illumination systems were also featured in the Global Lighting Technologies (Brecksville, OH; www.glthome.com) booth. There, David DeAgazio, director of worldwide sales, explained the philosophy behind the company's MicroLens, a molded backlighting system that also incorporates CCFLs. "Rather than use several CCFLs to illuminate a display," said DeAgazio, "solid-state molded backlights are edge-lit and provide a transition area that spreads light uniformly by extracting light at each point across the panel. Light guides developed in a thin package, with mechanical holding features that can be designed into the backlight, allow LCDs to be mounted into the host application. This can reduce parts count and assembly and material costs," he adds.
In the MicroLens design, light-extraction features and microreflector structures are molded into the rear surface of the light guide. These result in a reflective matrix that diffuses and directs light across the surface of the display (see figure).
At the SID conference, Global Lighting Technologies demonstrated a 15-in. backlight that featured a uniform 2700-cd/m2 output, priced at $25 to $30 in high-volume applications, according to DeAgazio.
Interestingly, due to relatively low-volume demands, few lighting vendors at the SID show were targeting the machine-vision and image-processing illumination market. However, as DeAgazio admits, such panels could be used to effectively replace flat area-array LED-based illuminators in certain applications.