New Products
Vision sensors expand, Fluorescent lights conform, Camera offers precision, CRT displays built for factory use, Camera runs FireWire, Lenses lower telecentricity, MORE...
May 1st, 2002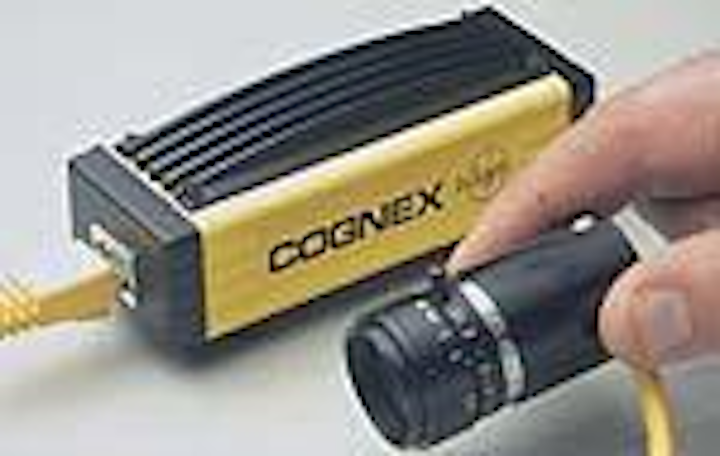 Vision sensors expand
In-Sight 4000 series of vision sensors offers speed improvements of up to 5X over previous In-Sight sensors using dual processors for vision processing and network communications. In-Sight 4001 provides fast frame rates and accelerated vision tool operation and delivers 1024 X 768-pixel resolution. In-Sight 4100 comes in 1.25 X 1.25-in. remote camera head. All sensors come with Ethernet communications, preinstalled library of company's vision tools, spreadsheet interface, and PLC communications via Ethernet/IP, DeviceNet, ModBus, and ProfiBus. Cognex Corp., Natick, MA 01760; (508) 650-3000.
Go to www.onlinecenter.to/vsd and enter 100
---
Fluorescent lights conform
Line of sealed fluorescent linear lighting fixtures conforms to applicable CE safety and electrical standards and can operate under harsh industrial conditions. Manufactured to NEMA 12 specifications, these devices are available in twin 4-W, twin 6-W, twin 8-W, and twin 13-W configurations. Lamps come in a variety of colors and color temperatures. Options include polarizers, diffusers, and filters. StockerYale Inc., Salem, NH 03079; (603) 893-8778.
Go to www.onlinecenter.to/vsd and enter 103
---
Camera offers precision
The 7500 series monochrome 2/3-in. CCD progressive-scan camera provides 1300 X 1300-pixel resolution, 6.7-µm square pixels, and a rate of 12 frames/s. It offers Camera Link or LVDS 10-bit digital output. High-speed shutter is adjustable in 1043 steps from 105 µs to 83.3 ms; low-speed shutter works in 120 steps from 83.3 ms to 10 s. The camera measures 2.06 X 2.06 X 3.10 in., weighs 12 oz, and uses an integrated C/CS mount. Key features include 10-36 dB AGC, 56-dB signal-to-noise ratio, and software and external trigger modes. Cohu Inc./Electronics Div., San Diego, CA 92186; (858) 277-6700.
Go to www.onlinecenter.to/vsd and enter 102
---
CRT displays built for factory use
GRY-series of CRT displays come in a rugged 19-in.-wide aluminum and steel rack-mount chassis with a corrosion-resistant aluminum front panel with a scratch-resistant black finish that shields against EMI and RFI interference. GRY 1017 17-in. display is 14 in. high and offers a dot pitch of 0.27 mm; GRY 1015 is 15 in. high and provides a dot pitch of 0.28 mm. On-screen display controls can adjust geometry and fine-tune color values in five languages. Resolution is 1280 X 1024 pixels at 60 Hz, and displays can be read in full sunlight. CyberResearch Inc., Branford, CT 06405; (203) 483-8815.
Go to www.onlinecenter.to/vsd and enter 101
---
Camera runs FireWire
KY-F1030U digital capture camera targets medical or materials-analysis microscopy imaging applications using a 1/2-in. interline-transfer CCD with progressive scanning and switchable 1360 X 1024- or 1280 X 960-pixel resolution. It offers IEEE 1394 (FireWire) and RGB analog outputs, a 4:3 aspect ratio, a 7.5-frame/s SXGA preview window, and proprietary KY-Link image-acquisition software. Other features include C-mount, dual IEEE 1394 and ac power supply, and motorized zoom-lens control. The camera comes with IEC601-1 and UL-2601 medical approvals. JVC Professional Products Co., Wayne, NJ 07470; (973) 315-5000.
Go to www.onlinecenter.to/vsd and enter 104
---
Lenses lower telecentricity
Four MVO telecentric lenses, which are used with a 1/2-in. CCD sensor, provide less than 0.1° telecentricity. With a magnification of 0.13X, first lens offers a working distance of 150 to 200 mm and a field of view (FOV) of 49.2 mm. With a magnification of 0.25X, second lens presents a working distance of 175 to 200 mm and a FOV of 25.6 mm. Third lens comes with a magnification of 0.5X, working distance of 175 to 200 mm, and a FOV of 12.8 mm. Fourth lens delivers a magnification of 1X, working distance of 115 to 140 mm, and a FOV of 6.4 mm. All lenses have a front filter thread for adding color filters, polarizers, or other mounted components. Aperture and focus positions are fixed by a set-screw. Edmund Industrial Optics Inc., Barrington, NJ 08007; (856) 573-6250.
Go to www.onlinecenter.to/vsd and enter 105
---
Frame grabber does real time
M-Vision 500 color/monochrome frame grabber digitizes video and transfers digital data to system memory or VGA display in real time. It comes in a 1/3-size (160-mm) PCI card and can capture composite NTSC/PAL, Y/C, or RS-170/CCIR video at 30 frames/s (NTSC) or 25 frames/s (PAL). Board transfers data at 132 Mbytes/s over the PCI bus to system memory or VGA card. It supports scatter/gather under Windows so that addresses can be generated and stored and one interrupt per field/frame serviced. VESA-standard video interface port can connect to a compatible VGA card via ribbon cable. Key features include handling 640 X 480- or 768 X 576-pixel resolutions, programmable gain/offset, software utility under Windows 95/98/NT, and software developer's kit. MuTech Corp., Billerica, MA 01862; (978) 663-2400.
Go to www.onlinecenter.to/vsd and enter 106
---
Industrial PC saves space
PxV206 industrial PC comes in a rugged, fully sealed, 2/3 height (2U) chassis that measures 3.5 x 19 in. It provides a Kontron PCI-946 PICMG single-board computer, a 933-MHz Pentium III or 566-MHz Celeron processor, and up to 1 Gbyte of SDRAM. Five expansion slots include three full-size PCI, one half-size PCI, and one half-size ISA. Molded foam lining securely holds all major components without screws. The PC accommodates an internal SCSI or IDE hard drive, front-accessible 5.25-in. floppy drive, and 3.5-in. CD-ROM drive. It supports Windows 98/Me/NT/2000, Linux, QNX, and Solaris. PEP Modular Computers Inc., Pittsburgh, PA 15220; (412) 921-3322.
Go to www.onlinecenter.to/vsd and enter 107
---
Camera comes complete
VK-CC10 and VK-CC20 CorrectCam compact OEM machine-vision CCD cameras integrate sensors, lighting, telecentric lens, and optics into a single rugged enclosure for surface-mount device placement and board-alignment applications. VK-CC10 provides a 640 X 480-pixel resolution, and the VK-CC20 offers 1024 X 768-pixel resolution. Both cameras contain a ringlight for darkfield illumination and a coaxial light for brightfield illumination. Optics features include 9.0 X 6.8-mm field of view, 40-mm working distance, 3-mm depth of focus, <0.3% distortion over entire field, and <0.06% telecentricity distortion over entire field. Lighting characteristics cover 10°-21° illumination angle, <30% nonuniform illumination, and 615- or 632-nm red illumination spectrum. A 1394a interface is used for all camera controls. Electro Scientific Industries Inc., Portland, OR 97229; (503) 641-4141.
Go to www.onlinecenter.to/vsd and enter 108
---
Corrections
In February 2002, p. 24, Uniq Vision is located in Santa Clara, CA 95054. In April 2002, p. 30, Table 1, the Vitana Corp., PixeLINK Division, URL is www.pixelink.com.