Digital imaging showcases dentistry
In his dental practice, Dr. Tom Hedge (Cincinnati, OH) has developed a digital imaging system that integrates cameras, software, and networked streaming media to highlight the advantages of advanced dentistry to his patients.
Jan 1st, 2002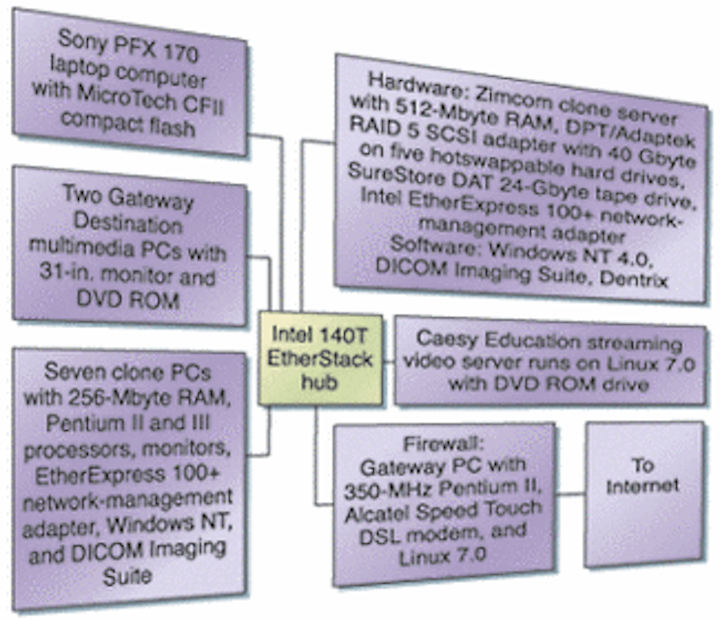 One dentist has incorporated a networked digital imaging system that provides patients with high-resolution details, presentations, and enhancements.
By R. Winn Hardin,Contributing Editor
In his dental practice, Dr. Tom Hedge (Cincinnati, OH) has developed a digital imaging system that integrates cameras, software, and networked streaming media to highlight the advantages of advanced dentistry to his patients. "Dentistry for years has been looked at as a selling proposition," explains Hedge. "Digital imaging turns it into want-based dentistry. I'm not selling it; they're asking about what I can do to fix problem areas. It helps to avoid conflict with patients."
FIGURE 1. An advanced, digital dental imaging system centers on an Intel 140T EtherStack hub. Attached to this hub are a Sony laptop computer, two Gateway Dimension computers with 31-in. television monitors and DVDs, and seven desktop computers with assorted software. Caesy Education streaming video server serves the desktop computers with patient and practice-management presentations. For networking, a Zimcom clone server works with a variety of hardware and software. Another PC acts as a dental-office firewall for Ethernet networking.
In the past, patients had to trust their dentist that a root canal was indeed necessary or that gum disease required immediate treatment. Perhaps the dentist also used x-ray photos or 35-mm slides as evidence. Unfortunately, most patients can't adequately read and understand these media. In addition, the original media most likely had to be sent to a laboratory for developing, adding cost, time, and delay to the procedure.
Now, Hedge has amassed a variety of digital, electronic, computer, and networking equipment in a single dental facility that provides high-resolution color images or photographs that patients can see and understand immediately (see Fig. 1). His upgraded dental practice has not only proven cost-efficient and effective but has also resulted in new and repeat customers.
In his lighting layout, Hedge embeds 3.11-Mpixel images from a Canon USA (Lake Success, NY) D30 digital still camera into PowerPoint presentations for patients. Moreover, he can e-mail images to prosthetic laboratory technicians, manipulate images using software from DIS Software (DIS; Blaine, WA), and provide patients with streaming-media presentations about specific dental conditions from a central Linux-based server from Caesy Education Systems (Vancouver, WA). Furthermore, dual Ethernet-connected servers run Windows NT 4.0 and Linux software over nearly a dozen desktop computers for patient and practice-management presentations.
STARTING POINT
In 1995, Hedge purchased an Eastman Kodak (Rochester, NY) digital dentistry system that included a DC-40 756 x 504-pixel camera, a printer, and Image F/X software from SciCan (Pittsburgh, PA). Unfortunately, the system lacked a built-in display, so Hedge had to bracket each photo at different f-stops to ensure proper lighting from built-in flash lighting. Moreover, flash operation was inconsistent. In addition, imaging-data download speeds across a serial cable to a PC were slow and tedious. Consequently, Hedge temporarily put aside his digital imaging system.
In 1999, Hedge experimented with an Olympus America (Melville, NY) 2500L digital camera that features a 2/3-in., 1712 x 1368-pixel sensor and a 32-Mbyte Microtech (Guilford, CT) SmartMedia compact flash card. Still unsatisfied with the imaging results, Hedge progressed to a Canon D30 camera that contained three (RGB) 3.11-Mpixel CMOS imaging chips that offered 24-bit imaging and an IBM (Armonk, NY) 340-Mbyte Type II Compact Flash card. This combination provided a good match of resolution versus price while extending the camera's battery life because of the power-saving CMOS chips.
Hedge also added a Canon MR-14EX macroring flash unit that delivered consistent, color-true images than the Olympus 2500L with its RF-50 ring-flash accessory. In Hedge's digital imaging studio, he synchronizes three strobe lights from a Novatron (Dallas, TX) 61-V600-3C professional lighting kit.
According to Hedge, increases in digital-camera resolution and the addition of removable flash memory have improved digital dental imaging. By attaching a MicroTech (Guilford, CT) USB CameraMate digital film reader, which is compatible with both the SmartMedia and CompactFlash removable storage cards, Hedge can download high-resolution uncompressed images in seconds rather than minutes. In his office, he uses a MicroTech CFII compact flash adapter to access the CompactFlash card directly through a PCMCIA slot in a Sony Electronics (San Jose, CA) PFX-170 laptop computer.
The laptop computer, with its Ethernet port, is connected to the office Ethernet via an Intel 140T EtherStack hub. The other two computers are Gateway (Sioux City, SD) Destination systems with 31-in. television monitors, wireless keyboards, and built-in DVD systems with Ethernet connectivity. (Note: Gateway no longer builds these computer systems.)
Hedge uses the Destination multimedia systems to present digital pictures to patients and, until recently, show multimedia presentations from Caesy Education Systems (Vancouver, WA) that describe dental problems and procedures. Recently, however, Hedge received a beta version of a multimedia server from Caesy that ties to the Intel 140T EtherStack hub. The Linux-based Caesy server eliminates the need for an individual DVD at each desktop computer and distributes presentations to each dental office room throughout the office Ethernet.
CENTRAL IMAGE STORAGE
For networking, Hedge engaged Zimcom (Cincinnati, OH), a business-to-business computer network integrator, to construct and install a clone server running Windows NT 4.0 on a Pentium III 866-MHz processor. The server, which contains 512 Mbytes of RAM, an Adaptec (Milpitas, CA) RAID-5 SCSI adapter with 40 Gbytes of hard-drive storage, and 24-Gbyte tapes in a SureStore DAT24 recorder from Hewlett-Packard (Palo Alto, CA), hosts DIS Software Dicom Imaging Suite and Dentrix (American Fork, UT) dental-practice-management software. Another PC, which runs Linux 7.0 software on a Pentium II 350-MHz microprocessor and an internal DSL-type modem, acts as a firewall to the Ethernet network for the dental office.
According to Todd Rees, DIS Software chief technical officer, company programmers used the Lead Technologies (Charlotte, NC) LeadTools raster imaging pro toolkit to create front-end dental image-processing routines, user interface, and connections to the Microsoft Access image and patient record database. The LeadTools imaging tool-kit supports multiple imaging languages and software, such as Visual Basic, C/C++, and Visual C++ (MFC), among others. The programming in Visual Basic includes some ActiveX image controls for cutting and pasting images from one module to another or to external programs such as Microsoft's PowerPoint presentation software.
SOFTWARE SUITE
The DIS Software Dicom Imaging Suite includes the ImagExplorer program and ImagEditor, ImageWhitener, and ImageSimulator modules. ImagExplorer contains the Access database file (see Fig. 2). Images are brought into ImagExplorer and placed temporarily in a 'briefcase' folder. Patient information that applies to the Dicom 3.0 medical imaging format are available in ImagExplorer or can be imported from more than two-dozen different medical practice management programs.
With the images in ImageExplorer, Hedge uses ImagEditor to crop, rotate, and adjust the color settings on each image as necessary. ImagEditor also allows the user to save images in Dicom, TIF, JPG, and other standard formats. Hedge uses this function to downsize the images in a JPG format for export to a Kensington Technology (San Mateo, CA) digital picture frame, which shows before and after images, among others, to patients.
ImageWhitener uses a correlation function to find all the white pixels (teeth) in a dentist-drawn box. Once selected, the dentist can change the shading of the pixels by sliding the mouse along a percentage scale. ImageSimulator offers the Microdental Laboratories (Dubling, CA) industry-standard tooth and prosthetic image library. Images can be pulled from the library into ImageSimulator and placed over an image of the patient's existing teeth to simulate a smile after surgery, for example. The simulator program also allows the dentist to select individual teeth using the same correlation function as ImageWhitener, reshape a tooth or teeth to fill gaps, remove discoloration, or simulate other dental procedures.
Another image-processing software package, ImagEditor Pro, includes caliper and measurement functions from the LeadTools raster imaging toolkit (see Fig. 3). Area and linear measurements improve the ability of off-site laboratories to better match replacement teeth. Rees aims to change the ImageWhitener tool so that it can mirror the shading scale used by dentists to manually identify a tooth's color. Today, the module uses a percentage increase or decrease in brightness rather than the industry-standard shading scale.
Company Information
Adaptec Inc.
Milpitas, CA 95035
Web: www.adaptec.com
ATI Technologies Inc.
Thornhill, ON L3T 7N6 Canada
Web: www.ati.com
Caesy Education Systems Inc.
Vancouver, WA 98683
Web: www.caesy.com
Canon USA Inc.
Lake Success, NY 11042
Web: www.usa.canon.com
Dentrix Dental Systems Inc.
American Fork, UT 84003
Web: www.dentrix.com
DIS Software Corp.
Blaine, WA 98230
Web: www.dicom-image.com
Eastman Kodak Co.
Rochester, NY 14650
Web: www.kodak.com/go/dental
Gateway
N. Sioux City, SD 57049
Web: www.gateway.com
Hewlett-Packard Co.
Palo Alto, CA 94304
Web: www.hewlett-packard.com
IBM Corp.
Armonk, NY 10504.
Web: www.ibm.com
Kensington Technology Group
San Mateo, CA 94403
Web: www.kensington.com
Lead Technologies Inc.
Charlotte, NC 28204
Web: www.leadtools.com
Microdental Laboratories Inc.
Dublin, CA 94568
Web: www.microdental.com
Novatron of Dallas
Dallas, TX 75227
Web: www.novatron.com
Olympus America Inc.
Melville, NY 11747
Web: www.olympusamerica.com
SciCan Inc.
Pittsburgh, PA 15222
Web: www.scican.com
SCM Microsystems, Inc./Microtech
Guilford, CT 06437
Web: www.microtechint.com
Sony Electronics
San Jose, CA 95134
Web: www.sony.com
Zincom
Cincinnati, OH 45201
Web: www.zincom.net