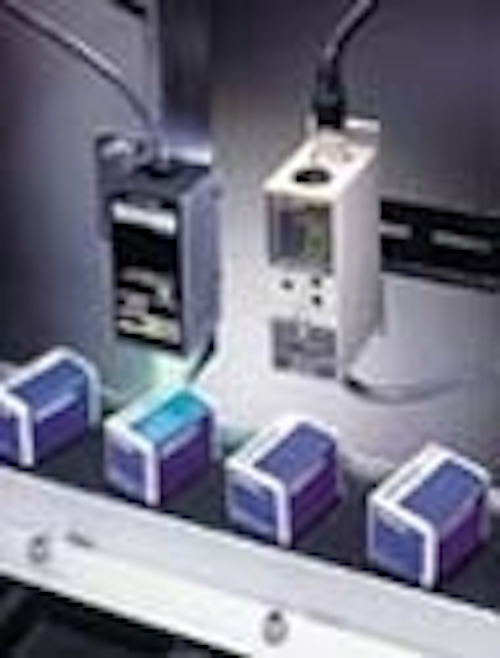 Sensor matches patterns
The F-10 gray-scale pattern-matching machine-vision sensor includes RS-232/RS-422 communications for networking multiple sensors and remote control by a PC, PLC, or SCADA system. It includes an amplifier with an eight-bank memory that can store eight separate models for teaching eight parts for a multiproduct production line. Processing runs at 3.6 to 10.6 ms in continuous inspection mode. Sensing area is available in 25 x 20 mm with a settling distance of 100 ±10 mm, 12 x 10 mm with 50 ±5 mm, or 4.5 x 3.5 mm with 33 ±1.5 mm. Sensing heads measure 70 x 33 x 33 mm, and the amplifiers occupy 98 x 55 x 30 mm. Omron Electronics Inc., Schaumburg, IL 60173; (800) 556-6766.
Frame grabber offers more memory
The PXD1000 V2 frame-grabber board handles single, dual, or four-channel area-scan, linescan, and TDI digital cameras with 4 Mbytes of FIFO memory. It supports RS-422 and RS-644 input signals at 30 MHz and 40 MHz per channel, respectively. Image sizes are 32k x 32k for area image and 32k wide for linescan images. Data throughput runs at 100 Mbytes sustained PCI bus transfers and at 132 Mbytes/s burst speeds. Imagenation Corp., Portland, OR 97223; (503) 495-2200.
Camera offers thermal and visual
Rugged ThermaCAM PM 695 automated infrared inspection system offers both thermal and visual imaging capabilities. It can record and store temperature-analysis data, voice and text comments, and thermal and visual images. Image files containing field-inspection data can be dragged and dropped onto the QuickReport icon to create maintenance reports. The camera comes with a microbolometer detector that needs no cryogenic cooling, delivers a thermal sensitivity of 0.008°C, and measures temperatures from -40°C to +2000°C using five measurement modes. Autofocus, autorange, and autospan features help produce precise thermal images. FLIR Systems Boston, N. Billerica, MA 01862; (978) 901-8000.
Industrial computer processes video
The 4Sight-II industrial computer integrates image processing, display, networking, and general-purpose I/Os and acquires from most video cameras including IEEE-1394 types. It includes an embedded Intel Celeron or Pentium III processor, the company's G450 graphics controller, and Windows NT Embedded software. Software support covers Windows 98/2000 and the company's software-development library. Matrox Imaging, Dorval, Que., Canada H9P 2T4; (514) 685-2630.
---
COMPUTER BOARD INCLUDES FRAME GRABBER The 1101 single-board computer is integrated on an EBX-sized board and comes with a built-in frame grabber. It contains a Pentium 233 MMX processor with 32 Mbytes of RAM, IDE and floppy-disk interfaces, and PC/104 and PC/104+ extension buses. Communication features include one parallel and two serial ports, 10Base-T Ethernet interface, keyboard and mouse interfaces, and optional 56K modem and solid-state disk. The board also can be used as part of a complete system that provides a 1101TB-companion board, hard drive, power supply, PC/104+ display adapter, and enclosure. Frame-grabber drivers and an SDK are available for Windows 95/98/NT/200, DOS, and Linux. Sensoray, Tigard, OR 97223; (503) 684-8005.
FLAT MONITOR WORKS UNDER HARSH CONDITIONS The Allen-Bradley RAC6157 19-in. flat- screen CRT monitor comes in a NEMA 1 rack mount or a NEMA 4/4X/12 panel mount for operating under harsh factory environments. Other approvals include UL 1950, C-UL 950, Australian C-Tick, FCC Class A, and DHHS x-ray emission. The monitor can display images at resolutions of 640 x 480 to 1600 x 1200 pixels. It offers an optional resistive, capacitive, or SAW touchscreen. Rockwell Automation, Milwaukee, WI 53204; (414) 382-4329.
CAMERA TILTS AND PANS The KX-DP700 series of color CCD cameras offer a 21X-zoom capability and a S/N of 49 dB. Movement adjustments include 11 preset positions, tilting angles of +15° to -87°, panning angles of ±100°, and panning speeds to 120°/s. Focal length is 3.8 to 79.8 mm, horizontal field of view is 51° max., and lens distortion is <2% max. Resolutions are 460 (NTSC) or 450 (PAL) horizontal lines and 350 (NTSC) or 420 (PAL) vertical lines. Powered by an ac adapter, the cameras provide either NTSC or PAL outputs with 380K (NTSC) or 438K (PAL) effective pixels. Other features include an RS-232 port or hand-held remote, <5-lux minimum illumination, and 1.0-Vpp typical video output. Panasonic Industrial Co., Secaucus, NJ 07094; (201) 392-6674.
VISION SYSTEM PLUGS N' PLAYS The CV-500 series machine-vision system comes with a 1.2-in.-square camera and a built-in monitor and one-touch controller that shorten setup time via context-sensitive pull-down menus. It features 24.5 million subpixel processing; OD, ID, pitch, and gap measurements; and adjustable target-angle compensation for correcting target-position variations. Independent processors allow the simultaneous use of two cameras with no speed loss, two-image processing, and a split-screen display of both images. A normalized correlation function uses built-in digital-image-processing algorithms to maintain accurate and stable image detection under reduced illumination. No PC is required. Keyence Corp. of America, Woodcliff Lake, NJ 07675; (888) 539-3623.
SOFTWARE ANALYZES IMAGES Digital Image Processing software, an integrated Mathematica 4 application package, can import and export more than 15 standard image formats. It can accommodate gray-scale, RGB, HSV, and CMYK color models and apply dozens of predefined filters and filter-design algorithms. The package can perform region-of-interest processing over arbitrary polygonal regions, smooth and sharpen images, and reduce noise. Software support includes Windows 95/98/NT/200, Mac OS, Linux (PC), SunOS/Solaris, and HP-UX, among others. Wolfram Research Inc., Champaign, IL 61820; (217) 398-0700.
CAMERA PACKS POWER The HiPerCam 2 area-scan camera comes with a frame grabber, an Intel Celeron processor with a 128-Kbyte cache, 16 to 128 Mbytes of 64-bit SDRAM, and a DMA controller. It is offered in three versions: a boxed case, a 19-in. rack mount, and a 3.1 x 3.1 x 5.9-in. enclosure. The frame grabber is a separate PMC module that provides two multiplexed Y/C inputs. An on-board camera sequencer allows reset/restart, external triggering, and synchronized flash. Communication features include an RS-232 line, a 10/100-Mbit Ethernet port, and four input and four output signals. Software compatibility covers Windows 98/NT, VxWorks, Linux, and pSOS. American ELTEC Inc., Princeton, NJ 08540; (609) 452-1555.
FRAME GRABBER DIGITIZES AT HIGH SPEED The PCVisionplus half-slot PCI-bus frame grabber digitizes monochrome analog video to 8 or 12 bits at sample frequencies to 53 MHz with 4 Mbytes of on-board memory and hardware that can quickly gather scattered image pieces stored throughout system memory. It accommodates a range of RS-170, CCIR, progressive-scan, and variable-scan cameras, Opto-22-compatible digital inputs and outputs, a DMA engine, and bus mastering. The board supports an external E-Donpisha-II trigger shutter to capture flickerless images of fast-moving objects. Camera controls include trigger, strobe, and reset options, as well as programmable timing and 16 bits of on-board digital I/O for controlling or monitoring the status of external events. The board runs on the company's Smart Search, Sherlock, and MVTools software and the IFC software development kit. Imaging Technology Inc., Bedford, MA; (781) 275-9590.
IMAGE SENSOR OFFERS HIGH RESOLUTION The Scanning Linear Image Sensor series provides high-speed electronic shuttering for simultaneous image capture and readout. Using 7 x 7-µm pixels, the sensors can deliver 2048, 4096, 6144, and 8196 resolutions. Multiple ports via the company's PVS-BUS can deliver video output every 2048 pixels at 90 MHz per port. Timing and control circuits are included on-chip. Photon Vision Systems LLC, Cortland, NY; (607) 756-5200.
CAMERA FLASHES AT HIGH SPEED The TM-1020 monochrome, interline-type progressive-scan, 1-in. CCD camera offers 1024 x 1024-pixel resolution. Its electronic shutter works at speeds to 1/16,000 s and can be set asynchronously by external pulse control. The camera comes with either 15 or 30 frames/s and delivers 8-bit, RS-644 (LVDS format of RS-422) digital outputs for interfacing with external image-processing systems. Interface cables are available for connecting to commercial frame grabbers. Key functions are externally controlled via an RS-232C link. A pixel clock-locking PLL handles multicamera operation. Pulnix America Inc., Sunnyvale, CA 94089; (408) 747-0300.
IMAGING SOFTWARE IMPROVED Updated FrameWork 2.1 software adds new tools for managing the company's Series 600 SmartSensor such as optical character recognition, ObjectFind, ScriptTool, SmartLink, and Emulator, among others. Emulator lets users test and develop applications off-line and enables virtual support of an application from any worldwide location. ObjectFind is used to learn and locate the shape of a part even when overlapped, partially occluded, or positioned among multiple parts under a range of lighting conditions. ScriptTool allows users to develop algorithms and inspection criteria. SmartLink can display an image from a SmartImage Sensor without the use of a PC. DVT Corp., Norcross, GA 30093; (770) 449-4960.
CAMERA DOES MICROSCOPY The Photometrics CoolSNAPfx digital imaging system suits microscopy applications. It uses a 1300 x 1300 CCD sensor that is cooled to -30°C and delivers 12-bit images at 20 MHz. A custom PCI card and RS Image software are included. Other built-in features are 6.7 x 6.7-µm pixels, 4096 levels of gray-scale data, and PVCAM compatibility. Roper Scientific Inc., Trenton, NJ 08619; (609) 587-9797.
DAC HANDLES 32 CHANNELS The 14-bit AD5532 monotonic digital-to-analog converter (DAC) can integrate 32 channels within a 12 x 12-mm LFBGA package. It can deliver an adjustable 20-V output range and also be used as a 32-channel sample and hold device with an infinite or droopless output hold capability. The converter needs no external amplifiers or filters. The AD5533 is a sample and hold device without the DAC mode of operation. Analog Devices Inc., Wilmington, MA 01887; (781) 937-1428.
SENSOR HANDLES MEGAPIXELS The Kodak Digital Science KAI-1020 progressive-scan interline-transfer CCD inage sensor provides a 1000 x 1000-pixel resolution with 7.4-µm2 pixels, electronic shutter, antiblooming protection, low smear, correlated double-sampling circuits, and a 60-dB dynamic range. At a 40-MHz clock rate, the imager's dual-output platform allows 49 frames/s. A fast dump driver can quickly discard a row of pixels without clocking the row through the horizontal CCD register. Peak quantum efficiency is >40% for high sensitivity. Eastman Kodak Co., Rochester, NY 14650; (716) 722-4385.
INDUSTRIAL COMPUTER AIMS AT MACHINE AUTOMATION Eight-slot AS-108 industrial computer comes in a heavy steel chassis with an aluminum front panel to withstand shock, dust, humidity, vibration, and high temperatures. The single-board computer provides a 233-MHz processor, a 6.4-Gbyte hard drive, 32 to 128 Mbytes of RAM, and a 48x CD-ROM. It comes with Windows 98 or NT 4.0 and a 250-W power supply and a 1.44-Mbyte floppy-disk drive. Automation Solutions, Petaluma, CA 94954; (707) 781-9155.
GRAPHICS CARD BLAZES The Angelo PCI mezzanine card is a plug-and-play AGP video graphics card for VMEbus and CompactPCI baseboards. Based on the Intel 740 graphics accelerator, it provides 8 Mbytes of 100-MHz video RAM for delivering resolutions to 1600 x 1200 at 32 bits per pixel and refresh rates to 72 Hz. A dual-bus architecture offloads the PCI bus of graphics and video traffic. A 64-bit, 100-MHz memory bus can access video memory at speeds to 800 Mbytes/s. Two communications pathways—a standard 32-MHz PCI bus and a 66-MHz AGP port-allow the baseboard to pass video/graphics data to and from Angelo without tying up the PCI bus. The card comes with an on-board video BIOS and drivers for the Windows NT/2000, OpenGL, VxWorks, QNX , Linux, and Solaris. General Micro Systems, Rancho Cucamonga, CA 91730; (909) 980-4863.
LIGHT SOURCES SHINE ON MICROSCOPY The Schott KL 1500 LCD light source suits microscopy applications. It offers controlled display, electronic, and mechanical light parameters. Features include quick lamp replacement, filter drawer, swivel optics, and unrestricted stacking. A low-noise fan and air venting deliver quiet operation. It is certified by the UL for use in Canada and the United States. Schott-Fostec LLC, Auburn, NY 13021; (315) 255-2791.
CAMERAS DO DIGITAL The Camelia 8M and Color 8M digital imaging systems both come with a digital camera head, a digital frame grabber, and associated Windows software. The progressive-scan CCD cameras offer 2300 x 3500 square pixels, or 8 Mpixels. The Camelia 8 and 8M deliver 12-bit and 12-bit/color data, respectively, to host PC memory at a rate of 2.5 frames/s and provide 8-Mbyte files in black and white and 24-Mbyte files in three-shot color mode, respectively. Camelia 8M also provides 24-Mbyte files after correction and interpolation. Binning up to 4 x 4 pixels enables black-and-white live video preview modes up to 9 frames/s. An RS-232 port supports continuous grab or asynchronous operation triggered by an external event and/or in synchronization with flash, shutter, or color filter wheel. A 12 x 12-bit look-up table at the frame grabber's input promotes camera calibration and setup. Atmel Corp., San Jose, CA 95131; (408) 436-4228.
VISION SYSTEM INSPECTS WAFERS The acuReader III vision system identifies and tracks wafers and components during the semiconductor manufacturing process. It combines OCR software with identification capabilities to read 2-D Data Matrix codes and barcodes on 300-mm wafers, lead frames, and substrates. A Wizard-based interface guides users step-by-step through the process of setting up ID applications by automatically configuring the correct parameters. This interface also provides context-sensitive help and displays menu text in English, Japanese, or other Unicode-compliant languages. The system comes with ID software, a company MVS-8100 frame grabber with on-board light control, a Windows-based GUI, and on-line documentation. Cognex Corp., Natick, MA 01760; (508) 650-3000.
ILLUMINATOR AIDS VISION The Molte Luce Model 300 fiberoptic illuminator provides 30 to 10,000 hours of high-output illumination and meets the directives and standards for CE compliance in Europe. Its 1-in. bore universal nosepiece permits configuring with standard fiberoptic adapters. A high-impact polymer housing provides cooler surface temperatures and low fan vibration and noise. A slide potentiometer can adjust lamp intensity from 0% to 100%, and optional iris dimming accommodates a constant color temperature. Other features include base mounting, multi-unit stacking, and an internal infrared filter. StockerYale Inc., Salem, NH 03079; (603) 893-8778.
SYSTEM INSPECTS PARTS The Checkpoint II PC-based machine-vision system suits factory-floor gauging and defect-inspection applications. It works with multiple cameras and company point-and-click software to inspect up to 11,000 parts/minute. The software includes MMX-optimized vision tools, a Windows-based graphical programming environment, and PatMax and PatInspect tools for locating and inspecting parts to 1/40 pixel, despite changes in part angle, size, or appearance. The company's VisionLinx software integrates the system to Allen-Bradley factory-automation products. The hardware provides a 400-MHz on-board vision processor that supports camera types such as RS-170, CCIR, wide format/digital linescan, and company CVC-1000 progressive-scan. Cognex Corp., Natick, MA; (508) 650-3000.
SYSTEM FINDS TINY FLAWS The turnkey Web Ranger 2000 linescan inspection system detects low-contrast defects of 0.005 in. and smaller, among other defects, in web materials, depending on the type of lens, number of cameras, and web travel speed. The OPSIS 5150ALC CCD cameras use a built-in FPGA for image processing and a PowerPC for on-camera image analysis. They each provide 5150-pixel resolution, 7500 lines/s at full resolution, up to 175,000 lines/s at reduced resolution, pipeline vision processing, and real-time digital and analog outputs. Multicamera processing runs at up to 40 million pixels/s. Frame grabbers and image-processing engines are not needed. Other features include Ethernet communications, Web Analyst software for camera setup, Web Ranger PC software for image analysis, and application engineering. Wintriss Engineering Corp., San Diego, CA 92121; (800) 550-7300.
PCI MEZZANINE CARDS ADD FLEXIBILITY The Fast4, FastI/O, and FastMem PCI mezzanine cards target real-time DSP/imaging scalability. The Fast4 card comes with up to four TriMedia TM-1x00 processors, each with 8 to16 Mbytes of SDRAM at 400 Mbytes/s. Its 32-bit-wide sideband bus delivers PCI-peak DMA transfer rates to 132 Mbytes/s. The FastI/O card input options include digital (RS-422, LVDS, or PECL), 32 bits with control and clock, NTSC/PAL/SECAM, or one RGB or three asynchronous RS-170 inputs. The FastMem card adds 128 to 512 Mbytes of SDRAM (up to 200 Mbytes/s) and a DMA interface. Alacron Inc., Nashua, NH 03060; (603) 891-2750.
VISION ENGINES ARE EMBEDDED The NetSight-CE and NetSight-NT embedded vision systems come in rugged enclosures with optoisolated connections, SVGA output, and keyboard and mouse ports. Other features include a 500-MHz MMX-compatible CPU, a 100Base-T Ethernet link, RS-232/485 serial ports, and a frame-grabber interface that handles most analog and digital cameras. The CE model ships with a 16-Mbyte drive; the NT model offers a 6-Mbyte drive or an embedded NT with a disk-on-chip. They offer a choice of development tools from Windows CE/NT to the company's MVTools, MVtools CE, SmartSearch, and Sherlock. Imaging Technology Inc., Bedford, MA 01730; (781) 275-2700.