Wilson's Websites
Matrix and line array; Order a catalog; Maintaining magnification; and more.
Jun 1st, 2000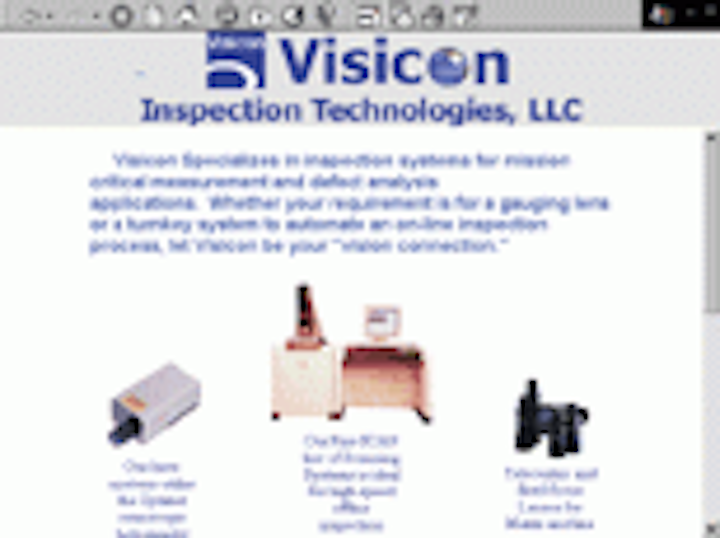 When compared with conventional lenses, telecentric lenses provide a greater depth of field while imaging objects at varying z-axis heights. By presenting minimum magnification error throughout the depth of field, they can achieve accurate measurements for applications where either the distance is not exactly defined or the length of the optical path varies during the measurement process. These include gauging and statistical process control, profile or contour gauging, and IC lead and package inspection. This month we look at telecentric-lens manufacturers and their on-line technical information and tutorials.
Matrix and line array
www.visicontech.com
Previewed at the recent Vision Show East in Boston, MA, the telecentric lenses for matrix and line arrays from Visicon (Norwalk, CT) offer a fixed magnification ratio for common chip sizes. In addition to providing useful tutorial information about the operation and applications of these lenses, the company's Web site highlights custom illumination and optical inspection systems.
Order a catalog
www.edmundoptics.com
Although there is little product information on the Web site of Edmund Industrial Optics (Barrington, NJ), the company plans to put its more than 300-page catalog on-line in the near future. The catalog details the company's range of optical products and telecentric lenses and shows how these products can be used in machine-vision systems. Bookmark this page now. When the company puts all of its data on-line, it will serve as an invaluable reference.
Maintaining magnification
www.navitar.com
Designed for metrology applications, the 6.5X telecentric zoom lens from Navitar (Rochester, NY) features a magnification range of 0.7-4.5X and is telecentric over the zoom range to less than 0.25°. The company's site offers descriptions of this and other company products, along with primers on optics, lens applications, video camera modules, and video systems.
Gauging lenses
www.mellesgriot.com
Detailing the company's Invaritar series of telecentric gauging lenses, the Web site of Melles Griot (Rochester, NY) is replete with information about the design and manufacture of lasers, optics, optical systems, and accessories. You can request literature, view product data sheets, and order the company's product catalogs. In addition, an FAQ section allows you to ask for on-line technical assistance.
Telecentric CCDs
www.rodenstockoptics.com
Rodenstock Precision Optics (Rockford, IL) has developed telecentric lenses for 1/2- and 2/3-in. CCD cameras that are characterized by freedom from distortion (image size changes less than 1 µm in the telecentric range) and a numerical aperture of 0.1. On the company's Web site, you'll find specifications, comparison charts, and details on custom manufacturing capabilities and more than 250 standard products.
Imaging lenses
www.jenoptik-los.de/index_eng.html
The Jenmetar telecentric lenses for image processing are highlighted on the site of Jenoptik (Jena, Germany). Here, too, you'll find product information on optics, cameras, and laser scanners, including CCD cameras for microscopy, infrared cameras for quality control, and camera subsystems and components for general use.