Medical facilities connect digital radiology systems for filmless imaging
Until recently, the radiology departments of most hospitals and the ultrasound imaging systems of community hospital associations have functioned as separate imaging islands without the widespread ability to move diagnostic images back and forth except by hand-carried film.
May 1st, 2000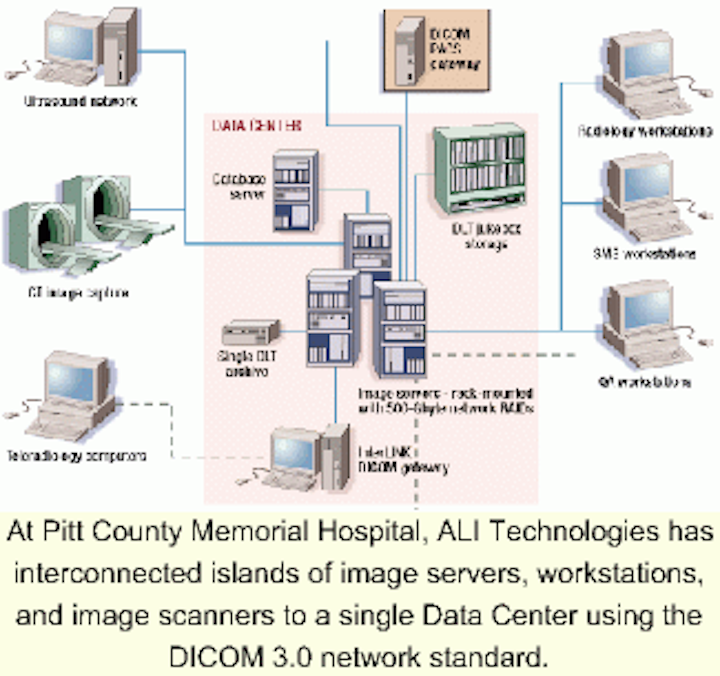 Integrated workstations, servers, mass-storage equipment, and software interconnect independent medical-imaging facilities with hospital information systems.
By Larry Curran, Contributing Editor
Until recently, the radiology departments of most hospitals and the ultrasound imaging systems of community hospital associations have functioned as separate imaging islands without the widespread ability to move diagnostic images back and forth except by hand-carried film. To solve this problem, imaging-support companies serving the medical community are developing systems to transform radiology and ultrasound diagnostic procedures into filmless processes. These imaging systems are readily transmitting electronic images across hospitalwide networks.
System integrator ALI Technologies Inc. (Richmond, BC, Canada) is "stitching together these imaging islands in medical facilities, which are five years behind the banking industry" in their degree of integration, according to Len Grenier, company cofounder, chief technology officer, and vice president of engineering. His company provides digital-imaging networks to hospitals and clinics that acquire, distribute, and archive medical images and diagnostic reports. To build and install these systems ALI integrates its proprietary software with industry standard computers and network hardware.
Grenier's experience with dozens of hospitals has demonstrated to him that few medical facilities have clinical radiological-data repositories and that a Picture Archiving and Communication System (PACS) is key to developing electronic medical records in such repositories. Fortunately, the medical industry is now striving to automate entire radiology departments and are moving toward more seamless integration of multiple-facility radiology sites. To that end, hospitals and independent-imaging facilities are banding together to determine how to more efficiently use imaging systems.
The goal is to connect all these imaging assets with hospital information systems. In this approach, hospitals will be able to import and export information such as patient demographics. In meeting that goal, ALI has developed a flexible system called ALI UltraPACS that encompasses standard workstations, servers, mass-storage systems, and software tailored to the requirements of a customer's medical facility.
Grenier says UltraPACS provides a network interface "to virtually every medical imaging modality and every type of equipment" that's based on the DICOM (Digital Imaging and Communications in Medicine) 3.0 standard. He points out that while the standard is still evolving toward a plug-and-play interface, ALI's resident DICOM software expertise enables the company to address "the many equipment idiosyncrasies that still exist."
The ALI UltraPACS version 4.2 software is written in C++ and Objective C and uses the Microsoft (Redmond, WA) Windows NT operating system and the Oracle Corp. (Redwood Shores, CA) Oracle8i database. The company uses standard Intel-based (Santa Clara, CA) computers running TCP/IP in a switched-Ethernet network that includes a mix of fast Ethernet and gigabit Ethernet.
Hospital network
A typical example of an ALI installation resides at Pitt County Memorial Hospital (PCMH; Greenville, NC), where Barry Willis is the network designer. This facility of University Health Systems comprises seven community hospitals, physician practices, home health care, and other independently operated health services. University Health Systems is affiliated with the Brody School of Medicine at East Carolina University (Greenville, NC; see cover photo).
The range of imaging systems available encompasses both radiological imaging and medical-records imaging. At PCMH, ALI has installed five Compaq (Dallas, TX) Proliant 1600R servers in the data center with gigabit-Ethernet network connections to a core switch; one Sun Microsystems (Palo Alto, CA) UltraSparc Enterprise 450 controlling a Storage Technology (Louisville, CO) StorageTek Timberwolf 9730 DLT magnetic-tape storage unit; one StorageTek 9710 tape library; and three 500-Gbyte RAID mass-storage disk systems.
These types of workstations are installed to handle diagnostic, radiological, and sonography imaging. The latter type involves an Intel OEM Pentium III-based low-profile chassis that can be mounted in an ultrasound scanner. This workstation is used to capture video and to generate DICOM-format outputs. The image display is looped to the scanner, a high-resolution Matrox (Dorval, QC, Canada) Meteor II multichannel image-capture board, and an image-display board connected to the ultrasound monitor through a VCR port. The sonographer's workstation also provides for 100BaseT Ethernet communications.
The diagnostic workstations are Compaq Computer DeskPro units with 19-in. color landscape monitors used for physician analysis of images from ultrasound and nuclear medicine systems. Their key software elements include the ALI UltraPACS ImageViewer Diagnostic Physician program, Oracle client software, and Pegasus (Tampa, FL) JPEG image-compression software for a client workstation. The workstations also are equipped for 100BaseT Ethernet communications.
The radiology workstations are Compaq AP500 dual-processor Pentium III-based high-resolution gray-scale systems that have a single portrait display. They run Windows NT and the ImageViewer Diagnostic Physician software program. These systems, which are usually located in intensive-care units or emergency rooms, are also equipped with a 100BaseT Ethernet network card.
According to Barry Willis, PCMH Information Systems has installed substantial networking infrastructure to support the UltraPACS system. The PCMH Data Center is equipped with a Cisco (San Jose, CA) Catalyst WS-C6509 switch with a multilayer switch feature card; redundant supervisory engines; and an eight-port 1000BaseX Ethernet Card for gigabit-Ethernet connections to the ALI Compaq Server Farm and for gigabit-Ethernet links to the radiology department switch. In addition, the PCMH Radiology Area Switch includes a Cisco Catalyst WS-3524-XL switch with two-port gigabit-Ethernet up-links to the PCMH Data Center over single-mode fiber cable, 24 10/100BaseTX ports for connections to imaging modalities, and radiologist image-reading stations.
The PCMH scenario is being repeated frequently because medical facilities will increasingly press for radiology assets "to be fully meshed with a facility's information systems infrastructure," Grenier predicts.
Company Information
ALI Technologies
Richmond, BC, Canada V6X 3G5
Web: www.ali.bc.ca

Brody School of Medicine
East Carolina University
Greenville, NC 27858
Web: www.ecu.edu/
Cisco Systems
San Jose, CA 95134
Web: www.cisco.com
Compaq Computer Corp.
Houston, TX 77269
Web: www.compaq.com
Intel Corp.
Santa Clara, CA 95052
Web: www.intel.com
Matrox Imaging
Dorval, QC, Canada H9P 2T4
Web: www.matrox.com/imaging
Microsoft Corp.
Redmond, WA 98052
Web: www.microsoft.com
Oracle Corp.
Redwood Shores
Web: www.oracle.com
Pegasus Imaging Corp.
Tampa, FL 33607
Web: www.jpg.com
Pitt County Memorial Hospital
Greenville, NC 27858
Web: www.uhseast.com/root/pcmh/
Storage Technology
Louisville, CO 80028
Web: www.stortek.com
Sun Microsystems
Palo Alto, CA 94303
Web: www.sun.com