Business Vision
Photonics West 2000 sparkles; Technology Trends; Management moves; Contracts committed; Market vision.
Mar 1st, 2000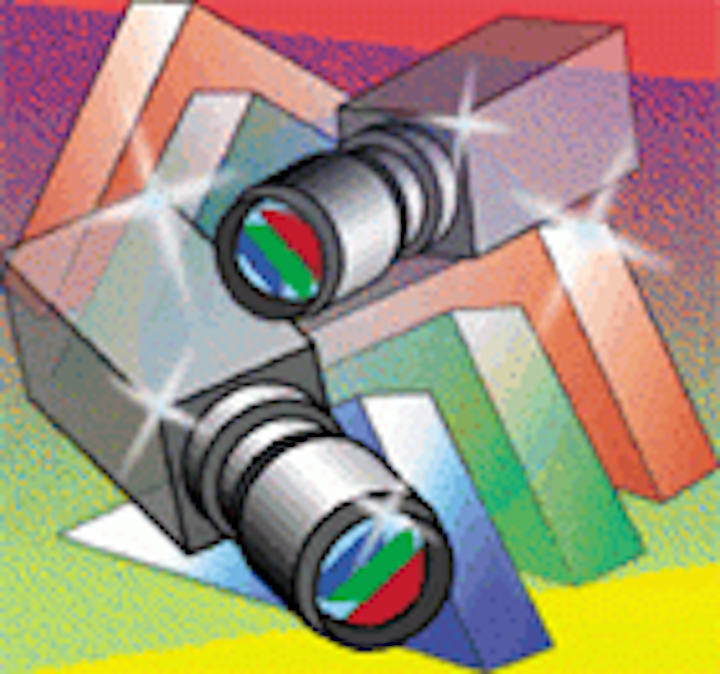 Photonics West 2000 sparkles
Last January, the Photonics West 2000 trade show "showcased the power of light" with more than 525 laser, optical, and vision product exhibitors. Of special interest to machine-vision and image-processing attendees were the 106 exhibitors that comprised the Electronic Imaging Pavilion. This specially designated area spotlighted a range of new camera, board, lighting, and software products.
Sponsored by SPIE—The International Society for Optical Engineering; (Bellingham, WA; www.spie.org), the industry event attracted a record attendance of more than 12,140. The large number of exhibitors and attendees contributed to a highly successful event as floor traffic appeared busy for all the three exhibition days, and most of the booths were continually filled with interested professionals.

The Electronic Imaging conference sessions covered 2-D and 3-D displays, image-processing methods, sensors and camera systems, image sequence and data analysis, multimedia processing, optical security, and image and video communications. Other educational opportunities included workshops on the imaging market, advanced imaging technology, and OEM imaging, as well as several short courses in electronic imaging systems.
In the opening standing-room-only plenary session, Carver A. Mead, renowned photonics researcher and scientist at the California Institute of Technology (Berkeley, CA) spoke on the "Evolution in Digital Photography." Mead and his team of researchers are developing a digital color CCD camera for professional studio photographers that produces ultrasharp images with virtually no aliasing, jaggies, or blotches. The on-going 2.5-year camera effort presently involves a standard lens, three prisms and associated electronics, and an attached laptop computer. Striving to achieve a high imaging-system signal-to-noise ratio, the camera system uses 12 million red, green, and blue square pixels and costs approximately $50,000.
On the show floor, new products were not available in great numbers. But of those that were shown, cameras dominated the scene, with a smattering of boards, lamps, and software packages. Among the cameras introduced was the first CMOS-imager-based TL-50 linescan camera product group offered by Dalsa (Waterloo, Ontario, Canada; www.dalsa.com). Providing 2048- to 5150-pixel resolution, the TL-50 transmits Channel Link serialized 8-bit data from the 40-MHz single-channel pixel stream, resulting in line rates to 19 kHz. The company also released the CL-T5 tri-TDI color linescan camera that offers 2048-pixel resolution, 25-MHz per channel scanning through each RGB output, 8-bit digital data at 75-MHz total throughput in LVDS format, and line rates to 10.7 kHz. Dalsa's subsidiary, Silicon Mountain Design, unveiled its SMD-BT25 scientific-grade CCD area-scan camera, which can run at 25 frames/s with 658 x 490-12 bit digital LVDS output.
The Cooke Corp. (Auburn Hills, MI; www.cookecorp. com) introduced its PixelFly digital CCD camera system for demanding scientific, industrial, and machine-vision applications. The 12-bit camera delivers speeds to 140 frames/s, a choice of three CCD sensor types—1/2-in. VGA, 2/3-in. SVGA, and 1/2-in. high-resolution SVGA—and up to 1360 x 1024-pixel resolution. Measuring 39 x 39 x 61 mm and weighing 250 g, it can be connected to a PCI board via a high-speed serial data link
PULNiX Industrial Products Division (Sunnyvale, CA; www.pulnix.com) demonstrated its TM-200NIR 768 x 494-pixel (EIA) and TM-300NIR 752 x 582-pixel (CCIR) near-IR-sensitive 1/2-in. interline-transfer CCD cameras. These 45.8 x 39.4 x 66.3-mm, 157-g units offer shutter speeds from 1/60 to 1/10,000 s, externally adjustable operational controls, external sync with low-jitter PLL, and 56-dB (typical) S/N.
Formerly a division of Eastman Kodak Co., Roper Scientific MASD Inc. (San Diego, CA; www.masdroperscientific.com) exhibited the ES 4.0 and ES 310 MegaPlus cameras. The 4 million-pixel ES 4.0 is an interline transfer CCD camera that provides up to 30 images/s, 2048 x 2048 resolution with 7.4-µm square pixels, 8 or 12 bits, and a 60% fill factor. The ES 310 CCD camera features 648 x 648 resolution with 9-µm square pixels, 85 frames/s, NTSC or PAL analog video output, and a multidrop RS-422 protocol that allows several cameras to capture different views of a subject in unison.
Sony Electronics Inc. (Park Ridge, NJ; www.sony.com) announced several new cameras. The XCD-SX900 and XCD-X700 1/2-in. progressive-scan CCD cameras offer uncompressed monochromatic digital output resolution of 1.45 million pixels (1280 x 960) at 7.5 frames/s and 0.8 million pixels (1024 x 768) at 15 frames/s, respectively. Both units measure 44 x 33 x 116 mm, weigh 250 g, and provide shutter ranges from 1/100,000 to 2 s. A one-cable IEEE-1394 connector and link permit multiple cameras to be joined to PCs and compatible devices. The monochrome 1/2-in. interline-transfer CCD XC-ST50 and 1/3-in. interline-transfer CCD XC-ST30 cameras measure 1.8 x 1.2 x 2.3 in. and weigh 3.7 oz. Both cameras offer 768 x 494 pixels, a 60-dB signal-to-noise ratio, a sensitivity of 400 lux at f/8, and a shutter range of 1/4 to 1/10,000 s. The DXC-390 1/3-in. three-CCD color video camera measures 2.2 x 2.0 x 5.0 in., weighs 13.1 oz., and delivers a 62-dB signal-to-noise ratio. It includes a 10-bit processor, shutter speeds to 1/100,000 s, 380,000 effective pixels, a sensitivity of f/8 at 2000 lux, and an RS-232 interface.
Optronics (Goleta, CA; www.optronics.com) demonstrated its IEEE-1394 Magnafire interline-transfer CCD digital imaging camera. This unit offers 1280 x 1024 pixels, thermoelectric cooling to -40°C ambient, 100-µs to 20-min exposure times, 10 bits of dynamic range, and an image readout rate of 16.9 million pixels/s.
To help engineers and scientists select the proper scientific imaging camera, National Instruments (Austin, TX; www.natinst.com) announced the Camera Advisor—a section of the company's Web site (www.ni.com/cameras) where users can compare camera features and specifications for more than 100 cameras from major suppliers such as Sony, Dalsa, JAI, Kodak, Basler, and PULNiX. Visitors to the site can compare different models and makes of linescan, area-scan, progressive scan, and analog and digital cameras. Listed technical camera details include sensor size, pixel depth, frame rate, and pixel clock rate. Links to camera-vendor Web sites are also provided.
As for board products, Coreco Inc. (St-Laurent, Quebec, Canada; www.coreco.com) released its Mamba embedded Pentium II-based vision-processor board that can off-load compute-intensive tasks from the host. In this approach, the Mamba processor is dedicated entirely to one imaging application using the 200-Mbyte/s Coreco Auxiliary Bus, a board-to-board communications link that keeps image data off the PCI bus. It features 512 Mbytes of memory, 48 Mbytes of disk on chip, VGA controller, 100 BaseT network controller, two IDE ports, one floppy-disk drive port, two serial ports, one parallel port, and 12 optoisolated I/O lines.
BittWare Inc. (Concord, NH; www.bittware.com) showed its four-processor Sharc board, called the Hammerhead-PCI., based on the 32-bit ADSP-21160 processor. This board features a 64-bit, 66-MHz PCI interface, 64 Mbytes of SDRAM, and a 64-bit, 50-MHz processor bus. All processors are code-compatible with the ADSP-2106x for seamless integration of existing code.
For new lighting products, Stocker & Yale (Salem, NH) released two high-frequency (25-kHz) fluorescent ringlights with black anodized-aluminum housings. The Model 5 circular fluorescent vision illuminator (CFVI) features a 5100 K daylight lamp and a 0.984-in. bore. The Model 8 CFVI provides a 4-in. bore and a 6500 K daylight lamp. Optional yellow, black light blue, and various white color temperature lamps are also available.
Dolan-Jenner Industries (Lawrence, MA; www.dolan-jenner.com) has developed the MH-24 fiberoptic illuminator that features a small 24-W metal-halide lamp. The device delivers white light at a color temperature of 5400 K for true color rendering and color balance. Housed in a metal chassis and weighing 1.7 lb, it transmits 611 lumens of light into a 3-mm-diameter fiberoptic bundle and 923 lumens into a 5-mm fiberoptic bundle.
On the software front, Foresight Imaging (Chelmsford, MA; www.foresightimaging.com) demonstrated its Auto-SYNC automatic configuration software. This package analyzes the video signal connected to the company's Hi-DEF or I-series frame grabber and automatically detects various video parameters, such as pixel clock rate, horizontal and vertical resolution, phase, black level, gain blanking, and horizontal frequency, to ensure high-quality video capture.
Technology trends
The Society for Information Display (San Jose, CA; www.sid.org) and its magazine Information Display have awarded its 1999 Display of the Year Gold Award to the Toshiba Corp. (Irvine, CA; www.toshiba.com) line of 4- to 15-in. direct view, transmissive, low-temperature polysilicon TFT liquid-crystal displays with integrated driver circuits.
Trellis Software & Controls Inc. (Rochester Hills, MI; www.TrellisSoftware.com) is offering a free VxWin evaluation kit that permits both the Wind River Systems' VxWorks and Microsoft's Windows operating systems to run concurrently on a single personal computer. The kit can be downloaded free from www.VxWin.com or requested on a CD via Fax: (248) 853-0518.
CR Technology (Aliso Viejo, CA; www.crtechnology.com) is introducing an integrated Windows NT-based CR-NT networking service for its line of vision and x-ray inspection systems that manages all inspection systems from one central unit, monitors log-in status of all system operators, and shares library files, data, and training files.
Media Cybernetics LP (Silver Spring, MD; www.mediacy.com) has released Image-Pro Express, an entry-level version of its Image-Pro Plus image-analysis software.
UMAX Technologies Inc. (Fremont, CA; www.umax.com) has announced its UMAX PowerLook 1100 Macintosh and PC scanner dedicated for IEEE-1394 (FireWire) support. The scanner provides a 1200 x 2400-dpi resolution, a 10,600-element trilinear CCD, and an effective 42-bit output using the company's patented bit enhancement technology.
Advanced Micro Devices Inc. (AMD; Sunnyvale, CA; www.amd.com) has unveiled its 800-MHz AMD Athlon microprocessor, a seventh-generation x86 processor built by an aluminum 0.18-µm process. It features a superpipelined, nine-issue superscalar microarchitecture; 128 kbytes of L1 cache and a programmable backside L2 cache interface; 24 additional instructions to improve integer math calculations, data movement for Internet streaming, and DSP communications; and a 200-MHz system interface bus.
Management moves
Stocker & Yale Inc. (Salem, NH: www.stkr.com), a supplier of illumination and photonics products, has appointed Alain Beauregard president and chief technology officer. He cofounded Lasiris Inc. in 1985 and has acted as president for the past 13 years.
Lite Array Inc. (Novato, CA; www.litearray.com) has appointed Damoder Reddy as chief operating officer. Most recently, he served as engineering manager at Candescent Technologies.
Edmund Industrial Optics (Barrington, NJ; www.edmund- optics.com) has promoted John Stack to president. He was company executive vice president.
Cognex Corp. (Natick, MA; www.cognex.com) has appointed Arvin B. Creef Jr. as director of end-user sales in North America for its modular vision systems division. Previously, he served as vice president of sales for Square D Co.
InVision Technologies Inc. (Newark, CA; www.invision-tech.com), a supplier of explosive detection systems based on computed tomography, has named Lee J. Deal as vice president of engineering and Francois Mesqui as vice president and chief technology officer. Deal was previously director/manager of systems integration and international programs at TRW; Mesqui was most recently company vice president of design engineering.
Mercury Computer Systems Inc. (Chelmsford, MA; www.mc.org), a supplier of medical diagnostic imaging systems, has named Didier Thibaud as vice president and general manager of the company's worldwide medical business group. He was most recently manager of the company's French subsidiary and European managing director of the medical business group.
EG&G Inc. (Sunnyvale, CA) has changed its company name to PerkinElmer Inc. and sold the EG&G name and government services division to the Carlyle Group.
Contracts committed
Under a $3.5 million contract from MFS Technologies, Wintriss Engineering Corp. (San Diego, CA; www.weco.com) has developed a fiberoptic version of its Opsis 1300AS megapixel camera system to provide imaging for the violation-enforcement component of the New Jersey turnpike electronic-toll-collection system under diverse traffic volume, car speed, lighting, and weather conditions.
Spectrum Signal Processing Inc. (Burnaby, BC, Canada; www.spectrumsignal.com) has received a contract from Analog Devices (Norwood, MA; www.analog.com/ solutions) to develop math libraries for its TigerSharc DSP architecture. These math libraries will provide math functions, real and complex vector functions, matrix functions, filters, fast Fourier transforms, and a variety of statistical functions.
Market vision
According to a study performed by the Cahners In-Stat Group (Scottsdale, AX), the worldwide semiconductor market will grow by nearly 17% in 2000, with revenues of almost $147 billion. The US market is projected to remain steady. The European region is estimated to climb to 22.3% in 2002. Demand stayed weak in Europe during 1999, and this region continues to lag the United States in Internet infrastructure expansion. The automobile, communications, and Internet sectors should boost European semiconductor sales next year. The explosion of OEMs in Asia/Pacific is figured to increase this region's market share from 22% in 1997 to 29% in 2003. Worldwide semiconductor capital spending is forecast to reach $44.5 billion in 2000 and $60 billion in 2001.
GEORGE KOTELLY EXECUTIVE EDITOR
GEORGEK@PENNWELL.COM