New Products
PC targets automation from CyberResearch Inc., Branford, CT; Connector uses FireWire IEEE 1394 from ITT Industries, Cannon, Santa Ana, CA; Frame grabber integrates VGA from Coreco Imaging, Bedford, MA; Sensor adds processing from Omron Electronics LLC, Schaumburg, IL...
Nov 1st, 2001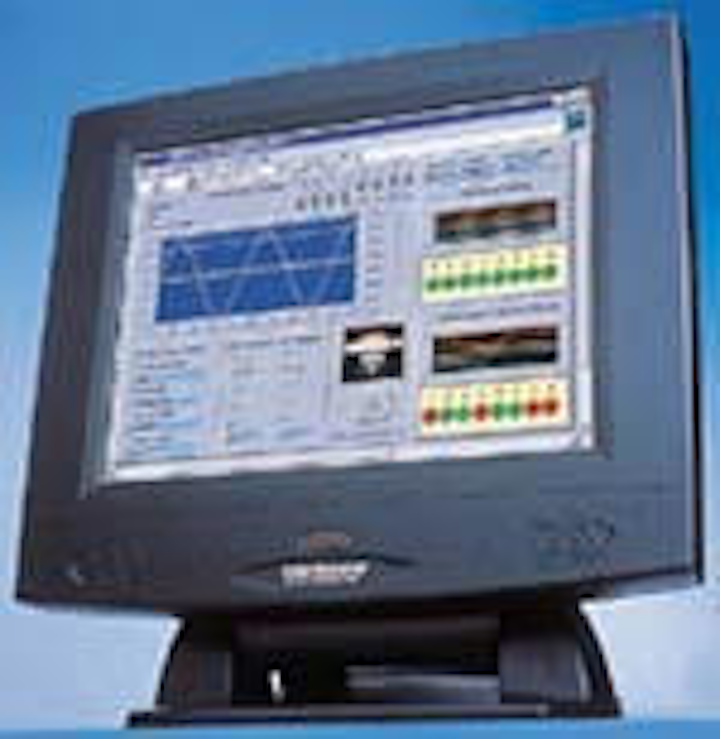 PC targets automation
The 4.75-in.-thick STH-15 Supertrim PC is a panel- or desk-mounted computer that comes with one PCI slot, one PCI or ISA slot, 10/100Base-T Ethernet port, two USB ports, four serial ports, and four digital IO ports. Powered by an 800-MHz Pentium III processor, the PC provides a 15.1-in.-diameter TFT LCD flat-screen display with an optional resistive touchscreen. CyberResearch Inc., Branford, CT 06405; (203) 483-8815.
Connector uses FireWire IEEE 1394
FireWire host connector allows multiple connections from a single PC port to transfer video or still images from a camera to a PC or printer without image degradation. Real-time and asynchronous data move through a single connector, and both low- and high-speed data devices operate on the same network. ITT Industries, Cannon, Santa Ana, CA 92705; (714) 557-4700.
Frame grabber integrates VGA
Bandit-II MV monochrome frame grabber with a VGA display provides a dedicated Acquisition Control Unit that works with fixed- or variable-scan cameras. Its three analog-to-digital converters can acquire images from as many as three progressive-scan monochrome cameras. Acquisition-control features include an external clock input, a two-pulse Schmitt trigger input, a strobe and exposure control timer, optically isolated general-purpose I/Os, and a PC-independent RS-232 port. Capable of transferring images in real time to onboard VGA or host memory, the board supports standard, RS170, CCIR, and analog progressive-scan asynchronous-reset cameras. It captures images from single- or dual-scan analog cameras at sampling rates to 40 MHz for monochrome cameras or 30 MHz for RGB cameras. Digitized images are transferred using onboard DMA to both VGA display and system memory. Coreco Imaging, Bedford, MA 01730; (781) 275-2700.
Sensor adds processing
F160 system combines dual cameras, processing, and variable-box measurements to boost capture speed and image processing. Measurement regions can be set to change automatically when performing inspections for objects of varying sizes, such as surface-mount components. The vision system provides a 5000-item/minute inspection rate. Proprietary Quest optical-character-recognition algorithm allows the vision system to recognize different characters, adapt to character shapes and sizes, and discriminate among similar characters. Omron Electronics LLC, Schaumburg, IL 60173; (847) 843-7900.
Cameras provide megapixels Dalstar 4M30 area-scan camera combines 2k x 2k-pixel resolution, 12-bit digital output, and a 30 frame/s rate. It replaces the Dalstar 4M25 camera and suits ball-grid-array and flat-panel inspection applications. Dalstar 6M18 provides 12-bit imaging with 3k x 2k spatial resolution at up to 18 frames/s. Its megapixel resolution and 3:2 aspect ratio benefit electronics manufacturing inspection, packaging inspection, and document archiving. Dalsa Inc., Waterloo, Ont., Canada N2V 2E9; (519) 886-6000.
CMOS camera delivers 500 frames/s FastCam DVR camera system combines a CMOS sensor with the ability to record directly to a 128-Gbyte hard drive at 500 frames/s. Up to 30 minutes of digital images can be recorded at speeds to 2000 frames/s to capture one long event or a series of shorter events. The system's touchscreen runs under Windows for operation via a 110T-base Ethernet connection or an RS-422 interface. Images are recorded in JPEG format with a compression ratio of 10:1. The 640 x 480-pixel camera can function with electronic shuttering down to 7.8 µs. Optional IRIG/GPS interface records millisecond timing on each frame in real time for NTSC or PAL operation. Photron USA Inc., San Diego, CA 92126; (858) 684-3555.
Illumination for microscopy The 3900-ROLS microscopy light source couples the company's proprietary Light-Lock technology with an Olympus U-LH100L-3 lamp housing, a 150-W tungsten-halogen lamp, and linear dc regulation to provide stable light intensity and spectral output. An RS-232/485 serial communications interface provides automated control of lamp intensity, on-off functions, and real-time diagnostics. The standard unit is available in custom, OEM, and private-label versions. Illumination Technologies Inc., East Syracuse, NY 13057; (315) 463-4673.
Monitor is sunlight readable Suited for severe environments, the stand-alone FP1700HB/RMAX 17-in.-diameter, color, liquid-crystal display provides 24-bit color or 8-bit gray scale for monitor rack-mount or console applications. It meets MIL-S-901 shock and MIL-STD-167 vibration standards and provides a 160° viewing angle, 600—700-nit brightness, and a 350:1 contrast ratio in bright daylight. The display accepts NTSC or PAL inputs that range from VGA to its native 1280 x 1024-pixel resolution at 76 Hz. Options include EMI protection, filtered airflow, and resistive, capacitive, or SAW touchscreens. Image Systems Corp., Minnetonka, MN 55343; (952) 935-1171.