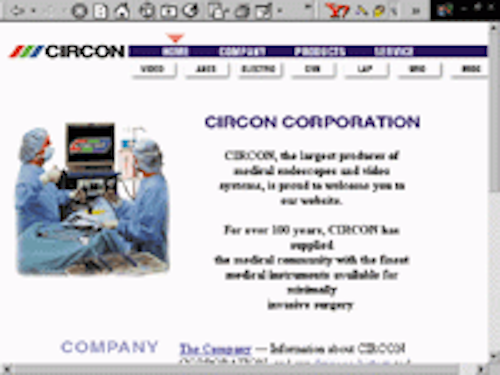 In many machine-vision and medical applications, objects to be inspected are often inaccessible. In engine inspection, for example, the cylinders of gasoline engines are often inspected with borescopes so it is not necessary to remove the cylinder head of the engine. In medical imaging, endoscopes are sometimes used to visualize the interior of hollow organs. This month we take a look at vendors of borescopes and endoscopes and some novel uses of these instruments.
Video inspection
www.integratedendoscopy.com
Borescopes, endoscopes, and video inspection equipment based around these technologies is featured on the Web site of Integrated Endoscopy (Irvine, CA). Highlighted is the company's video inspection system, an integrated camera driver/ light source that can be used with a borescope to view objects or surfaces at magnifications from 0 to 100X with working distances from 0.5 mm. Applications including video microscopy and ball-grid-array inspection are also discussed.
Diagnostic systems
www.circoncorp.com
Circon (Santa Barbara, CA), a developer of endoscopes and diagnostic systems, also produces a range of miniature color video systems for medical applications. These products are detailed on the company's Web site, along with new products, medical meetings, company literature, and videotapes on such medical subjects as anesthesiology, electrosurgery, gynecology, and laparoscopy.
Borescope design
www.gradientlens.com
If you want to know how borescopes are designed as well as used, check out the site of Gradient Lens Corp. (GLC; Rochester, NY). The Web site shows how the company's gradient-index optical technology is built into its range of Hawkeye precision borescopes and how this differs from other designs. There is also technical information on borescopes made by German manufacturer Karl Stortz and offered by GLC.
Providing a service
www.frsomega.com
FRS-Omega (Ontario, CA) is a service provider to end users of fiberoptic borescopes worldwide. Its products include fiberoptic borescopes and components, standard and custom-designed imaging systems, and flexible and rigid borescopes. On this site, there is a list of the company's products including flexible and industrial borescopes, light sources and guides, and specialty imaging and machine-vision products, and you can order a product catalog on-line, read how to select a borescope for nondestructive-testing applications, and view the company's client list.
A virtual look
www.borescopes.net
Ever wondered what it was like to look through a borescope? Now you can experience the effect without purchasing one, thanks to the UXR (Simi Valley, CA) Web site. On the site, the company has digitized a series of four images taken with a 4-mm articulating fiberscope. There are also datasheets, product descriptions, and FAQs describing the company's fiberscopes, borescopes, videoscopes, and nondestructive-testing equipment.
TV probes too
www.aeinorthamerica.com
Fiberscopes, borescopes, remote video inspection devices, fiberoptic illumination systems, and video microscopes are highlighted on the Web site of AEI North America (Marcellus, NY). The company offers a range of small, extended microscopes capable of monitoring inspection areas with a defined magnification at a fixed working distance.