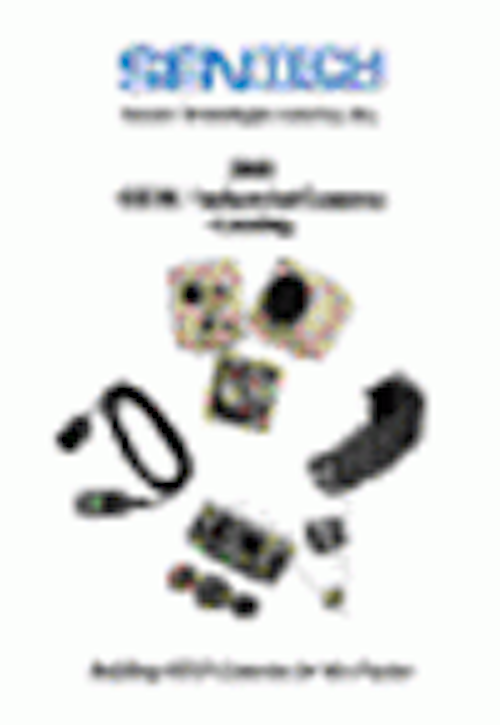 Sensing & control handbook
Handbook helps engineers choose which sensor or product to use for a particular application, including photoelectric sensors, safety light curtains, and pressure sensors. Installation instructions are included. Keyence Corp of America, Woodcliff Lake, NJ 07677; e-mail: keyence@ keyence.com.
Industrial CCD camera catalog
Catalog describes custom designs and configurations that allow customers to specialize their systems. Products include color and low-cost black-and-white cameras. Sentech America, Carrollton, TX 75006; (972) 245-4243.
Direct optics
Third edition of company's catalog describes its "off-the-shelf" products as well as its customized components made from such materials as germanium, silicon, and zinc selenide. Various coatings are described, as well. JML Optical Industries Inc., Rochester, NY 14621; (716) 342-6125.
PC Systems Handbook
Handbook describes hard-to-find industrial-computing, data-acquisition, and motion-control systems and components. There are comparison charts that highlight critical information, as well as color photos and pricing information. CyberResearch Inc., New Haven, CT 06535; e-mail: handbook @cyberresearch.com.
Hard-to-find products
Reference catalog contains 100 pages of items for educators and engineers, including science discovery items, optics, biomedical instruments, scales, solar equipment, and microscopes. Scientifics, a division of Edmund Scientific, Tonawanda, NY 14150; e-mail: cons_order@edsci. com.
Vivid Filters for Fluorescence Microscopy
Catalog describes company's filter sets and components for fluorescence microscopy, including filters for ratio imaging and multilabeling. Filter sets are grouped according to design features and application. It can be downloaded from the company's Web site: www.omegafilters. com. Omega Optica Inc., Brattleboro, VT 05302; (802) 254-2690.
Products for communication
Full-color, 224-page product catalog includes information on products such as Bluetooth, IEEE 802.11b W-LAN, IEEE 1394 "Firewire," USB, and CompactPCI adapters. It is a reference source, offering discussions on buses, protocols, and form factors. Application examples are included for each product family. Quatech Inc., Akron, OH; e-mail: sales@quatech.com.