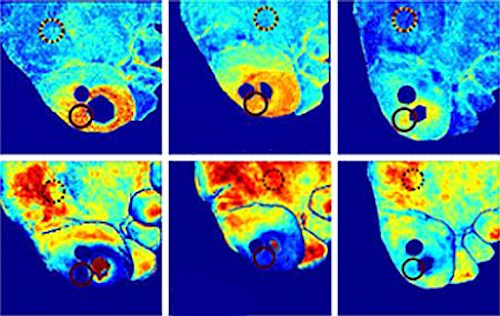 Researchers at the UCLA Henry Samueli School of Engineering and Applied Science (Los Angeles, CA, USA) have developed algorithms that can analyze hyperspectral images of the foot to identify ulcers associated with diabetes weeks before they are visible to the eye.
Diabetes affects 194 million people worldwide and is expected to increase to 439 million in 20 years. Ulcers on the foot are a major complication of the disease, affecting 15-25% of diabetic patients, and in 2006 was the cause for more than 88,000 limb amputations on diabetes patients.
Hyperspectral sensors collect image data simultaneously in many narrow, adjacent spectral bands. These "images" are then combined and form a three-dimensional hyperspectral data cube for processing and analysis.
The hyperspectral imaging algorithm developed at UCLA can analyze the hyperspectral data cube of a diabetic patient's foot and determine a map of the epidermal layer thickness, blood volume and blood oxygen levels over the patient foot -- all of which are associated with foot ulcer formation and healing. The algorithm also corrects for light absorption by melanin which gives skin its color and protects it from ultraviolet radiation.
Using the system, the UCLA researchers can diagnose whether a diabetic foot ulcer will heal or not and determine if a new ulcer will be form and where. The system could be an important tool for clinicians who treat diabetic patients who are at risk of ulceration, which can lead to infection and amputation.
-- Posted by Vision Systems Design