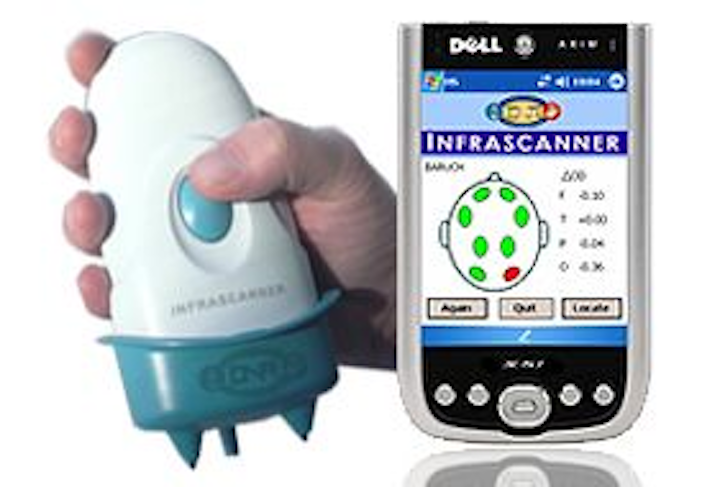 Engineers at InfraScan (Philadelphia, PA, USA) have developed a handheld near-infrared (NIR) spectroscopy system that can aid in the detection of intracranial hematomas in the skull.
Intracranial hematomas occur when blood from a ruptured blood vessel collects within the brain or between the skull and the brain. As blood expands within the brain or in the narrow space between the brain and the skull, the brain becomes compressed. An intracranial hematoma can be life-threatening if it is not treated immediately.
The Infrascanner uses a scanner that directs NIR light -- a wavelength of light that can penetrate tissue and bone -- into the skull. Blood from intracranial hematomas absorbs the light differently than other areas of the brain. The scanner detects differences in light absorption and transmits the information wirelessly to a display on a handheld computer.
By comparing the optical density from a series of scans of specific areas on both sides of the skull, a health care provider can use the information provided by the device to determine the likelihood of an intracranial hematoma and the need for further diagnostic imaging procedures, such as a computed tomography (CT) scan.
-- By Dave Wilson, Senior Editor, Vision Systems Design