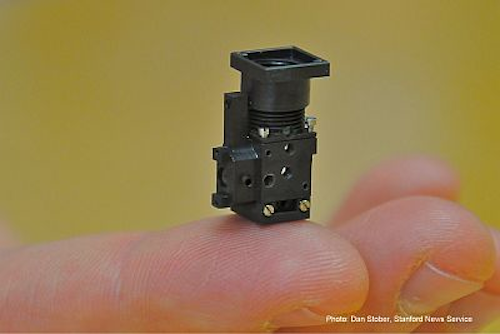 A miniature microscope weighing less than 2 grams and tiny enough to balance on the tip of a finger has been developed by Stanford University (Stanford, CA, USA) researchers.
The tiny microscopy system is designed to image fluorescent markers, such as dyes, commonly used by medical and biological researchers studying the brains of mice.
The 0.75-in.-high device has no moving parts that would require realignment if the microscope gets jostled and, aside from the outer lens, it is sealed against dust, making it suitable for use outside the laboratory.
The researchers have used the microscope to detect tuberculosis in cells cultured in the laboratory. They also have used an array of four of the devices in experiments counting individual cells cultured in the laboratory and achieved accuracy comparable to that obtained with standard full-size cell counting equipment.
They have also demonstrated that the microscopes can screen for some genetic mutations. The researchers were able to distinguish mutant zebra fish from those lacking the mutation by comparing images of certain nerves.
The current limit to the image resolution of the microscope is 2.5 microns, but by using state-of-the-art cell-phone imagers that could be improved to 1 micron.
-- Posted by Vision Systems Design