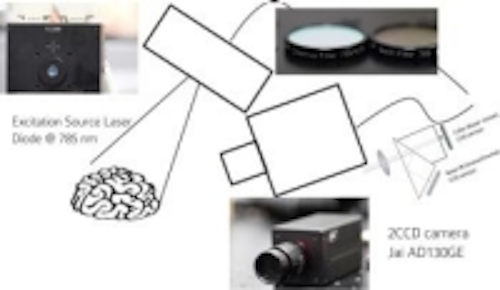 Researchers at the Cedars-Sinai Maxine Dunitz Neurosurgical Institute and Department of Neurosurgery have developed a vision system that utilizes a CCD camera, a synthetic version of a protein found in the venom of a deathstalker scorpion, and a near-infrared (NIR) laser to illuminate malignant brain tumors and other cancers.
The vision system developed at Cedars-Sinai acquires both white light and NIR images and combines them by superimposing them on an HD video monitor. The system utilizes a JAIAD-130GE prism-based 2-CCD progressive area scan camera. The 1.3 MPixel camera, which is GigE Vision and GenICam compliant, features 1/3" CCD sensors with 3.75 µm x 3.75 µm pixel size. At full resolution, the camera achieves a frame rate of 31 fps while capturing both visible and NIR images.
A 16mm VIS-NIR compact fixed focal length lens from Edmund Optics was attached using a C-Mount and an NT56–353 C-Mount thin lens mount holder from Edmund Optics was attached in the front of the lens, which housed a 785-nm notch filter to filter out the excitation light from the return image (785-nm StopLine single-notch filter, NF03–785E-25, Semrock). An LD785-SH300 785-nm laser diode from Thorlabs was used for NIR excitation while white light was provided with a commercially-available xenon light source from Storz. White light and NIR fluorescence images were captured via the camera's GigE interface.
Keith Black, MD, chair and professor of the Department of Neurosurgery and lead author of a research paper on the project clarifies that malignant brain tumors called gliomas are among the most lethal forms of tumors, with patients typically surviving only about 15 months after diagnosis. By removing the tumor, survival statistics will increase, but it is impossible to visualize with the naked eye where a tumor stops and brain tissue starts, he explained.
Page 1 | Page 2