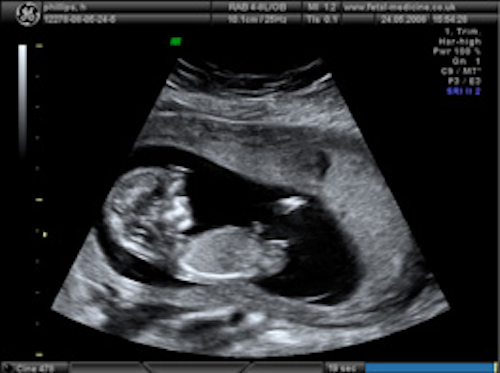 University of Oxford (Oxford, UK) spin-out Intelligent Ultrasound (Oxford, UK) has raised £610,000 to develop software that can reduce the risk of incorrect or missed diagnoses from ultrasound scans and avoid costly, inconvenient rescans.
Intelligent Ultrasound's software is based on research from the University of Oxford's Institute of Biomedical Engineering by Professor Alison Noble and her team. The new company will be supported by the National Health Service (NHS) National Innovation Centre.
The NHS National Innovation Centre contributed a development award to the company's fund raising, and nine angel investors, including company founders and the Oxford Invention Fund also made investments to bring the total raised to £610,000. The company expects to complete the current round of funding within a few months.
"We are combining conventional ultrasound scanning with advanced automated image analysis to improve the diagnostic quality of scans and ensure that the doctor has the best ultrasound-based information to make a clinical decision," says Professor Noble, the Technikos Professor of Biomedical Engineering at Oxford University.
Intelligent Ultrasound's 3-D fusion ultrasound software aligns overlapping 3-D ultrasound scans and produces a composite image reconstruction that affords an increased field-of-view and improved anatomical definition when compared to a conventional 3-D ultrasound scan.
The first version of the ultrasound software for use in echocardiography is expected to be available for sale within six months. Further versions are being developed for stress-echocardiography, obstetrics and ultrasound-guided surgery.
Currently, the company is looking to hire one senior and up to two junior software engineers with expertise in medical image analysis. According to the company, engineers should have expertise in registration, detection and segmentation, and be experienced in programming in C++/C.
Interested in reading more about the uses of ultrasound? Here is a selection of five recent news stories that Vision Systems Design has published on the subject.
1. Software fuses images for surgeons
Researchers at InnerOptic Technology (Hillsborough, NC, USA) have developed software that fuses pre-operative CT scans with live ultrasound imagery in real time onto a 3-D monitor.

2. Ultrasound propels nondestructive testing
Researchers at the Fraunhofer Institute for Industrial Mathematics (ITWM; Kaiserslautern, Germany) have developed a mobile mechanized ultrasound system that can be used for the nondestructive testing of ships' propellers.
3. Ultrasound system gets image quality makeover
UK scientists have successfully completed an initial trial of a new, potentially more reliable technique for screening breast cancer using ultrasound.

4. Software helps map muscles in 3-D
An associate professor from Simon Fraser University (Burnaby, BC, Canada) has developed a new software tool that allows researchers to view the structure of moving muscles.

5. Ultrasound imaging helps with speech disorders
A team of researchers from Edinburgh University (Edinburgh, Scotland), Queen Margaret University (Edinburgh, Scotland), and Articulate Instruments (Edinburgh, Scotland) are working on an ultrasound-based system called Ultrax that aims to provide visual feedback of what is happening inside a child's mouth as they speak.

-- Dave Wilson, Senior Editor, Vision Systems Design