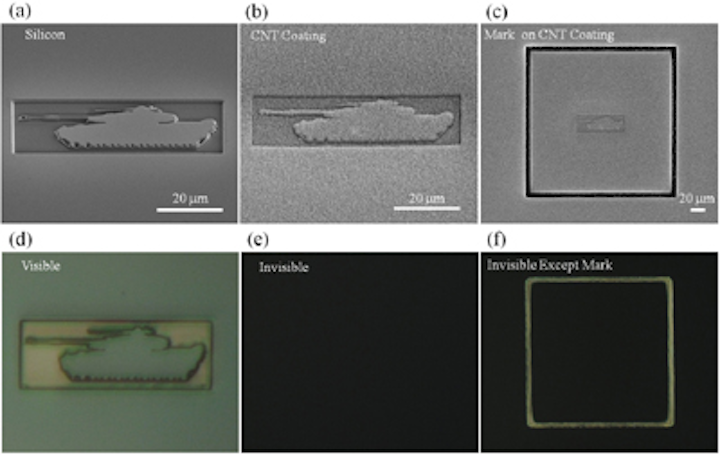 A carbon nanotube coating developed at the University of Michigan (Ann Arbor, MI, USA) acts as a "magic black cloth" that can conceal an object's three-dimensional geometry and makes it look like a flat black sheet.

The 70-micron coating, or carbon nanotube carpet, is about half the thickness of a sheet of paper, and it's capability to conceal an object is due to the fact that it absorbs 99.9 percent of the light that hits it, preventing any detectable light reflection and scattering.

"You could use it to completely hide any 3-D attributes of an object," says Jay Guo, a professor in the department of electrical engineering and computer science at the university.

To demonstrate the concept, the researchers made a raised, microscopic tank shape on a piece of silicon. They then grew the carbon nanotube carpet on top of the silicon.

Photos taken through an optical microscope (above), showed that the tank was imperceptible. As a control, they carved out a rectangle on another piece of silicon that was not coated with carbon nanotubes. This time, the rectangle was visible under the microscope, but the tank remained hidden.
The university is pursuing patent protection for the intellectual property, and is seeking commercialization partners to help bring the technology to market.

A technical article "Low density carbon nanotube forest as an index-matched and near perfect absorption coating," which describes the development is available here.

Recent Vision Systems Design articles covering developments at the University of Michigan that you might also be interested in.
1. Mobile app helps track moles

A new free app developed at the University of Michigan Health System (Ann Arbor, MI, USA) allows users to photograph suspicious moles or other skin lesions which they can then share with a dermatologist to obtain a medical diagnosis.

2. Embedded processor optimizes feature-extraction algorithms

Silvio Savarese of the University of Michigan (Ann Arbor, MI, USA) and his colleagues have developed a multicore processor specifically designed to increase the speed of feature-extraction algorithms.

3. CT scan technique differentiates types of lung damage

A team from the University of Michigan Medical School (Ann Arbor, MI, USA) has used a technique called parametric response mapping (PRM) to analyze CT scans of the lungs of patients with chronic obstructive pulmonary disease (COPD).

Vision Systems Design magazine and e-newsletter subscriptions are free to qualified professionals. To subscribe, please complete the form here.

-- Dave Wilson, Senior Editor, Vision Systems Design