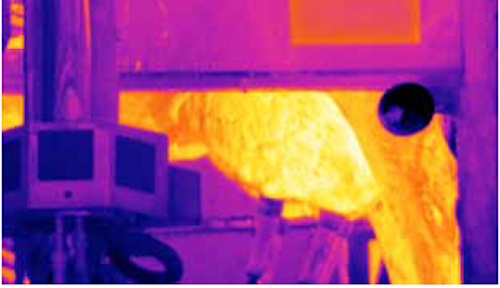 A Swedish company has developed a system for automatically monitoring the health of dairy cows using thermal imaging cameras from FLIR (Portland, OR, USA).
Agricam's (Linköping, Sweden) Cattle Disease Diagnostics (CaDDi) system uses a pair of FLIR A310 thermal cameras to image the udders of the cows, after which the images can be analyzed to determine whether or not a cow has mastitis.
To test out the system, the two cameras recorded thermal images of the two sides of a number of cows' udders for a period of six months at the sides of a milking machine in a dairy farm near Linköping.
A database of thermal images was created for each of the cows, which were identified using RFID tags. Using that database, the CaDDi software then determined the normal thermal patterns associated with the udders of each individual animal. By comparing each new reading to the earlier recorded data, the system software could then accurately detect the type of thermal anomalies that indicate mastitis.
Ellinor Eineren, the founder of Agricam, says that although the current product is used to detect mastitis, in the future the company intends to bring to market software modules to detect other diseases as well.
-- Dave Wilson, Senior Editor, Vision Systems Design